More than 2,000 union workers at Pittsburgh-based Allegheny Technologies have been locked out of their factory since August 15 as part of a contract dispute. But the specialty metals company is still operating—with the help of a private staffing company named Strom Engineering that specializes in part in supplying labor during industrial strikes, according to the Pittsburgh Post-Gazette.
The firm has apparently posted an ad on Craigslist in Pittsburgh (originally highlighted by Eric Loomis) advertising jobs paying $1,700 to $3,000 for an 84-hour-work week. That equates to 12 hours a day, 7 days a week, in what's described as a "high heat/temperature manufacturing environment."
Both Strom and Allegheny declined to comment.
The ad is pretty clear about what kind of job it is. In caps, it notes "THIS IS A LABOR DISPUTE SITUATION – EMPLOYEES WILL BE TRANSPORTED ACROSS A PICKET LINE." It adds that the job will be temporary and of unknown duration.
Here's the full ad: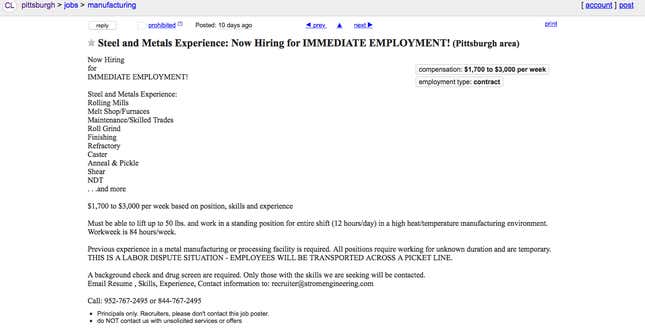 Strom is private, and keeps a low profile. It began to focus in part on providing workers during labor disputes about 24 years ago. Unions and their workers are less than fond of the firm, to say the least.
Bringing on workers during a strike is, of course, not unprecedented. But, according to University of Illinois labor law professor Michael LeRoy, using a subcontractor like this makes hiring replacement workers vastly quicker and easier, and undercuts the ability of the union to collectively bargain effectively.
The grueling work week advertised here isn't unique in these situations either. When there's a lockout, there are orders that get put on hold, and there's a need to make up for lost time.
"An 84-hour-work week is exceptional and certainly raises safety concerns," LeRoy says. "And has it happened before? Undoubtably."
But it is legal, he says.
Firms like Strom have been around for more than a century in the United States, and they're having a broad impact on the labor market. It's more and more common for US manufacturers to supplement salaried, usually unionized floor workers with contract employees. This has likely helped keep wages down. But a recent National Labor Relations Board ruling on the status of contractors may rein things in by making contractors and their employing firms jointly liable for any unfair labor practices.