Brazil's unemployment dropped to 4.6% in December—the lowest level on record and down from 4.9% in November. And though December's unemployment came in a bit higher than analysts expected, that 4.6% is a milestone of sorts given that it breached the previous record-low of 4.7% unemployment in December of 2011.
After two years of economic stagnation—GDP grew a mere 1% in 2012—Brazil's government has been working aggressively to stimulate growth. With those policy effects seeping into the economy, companies have stepped up hiring in anticipation of an economic rebound, driving unemployment down. Here's a look at that trend: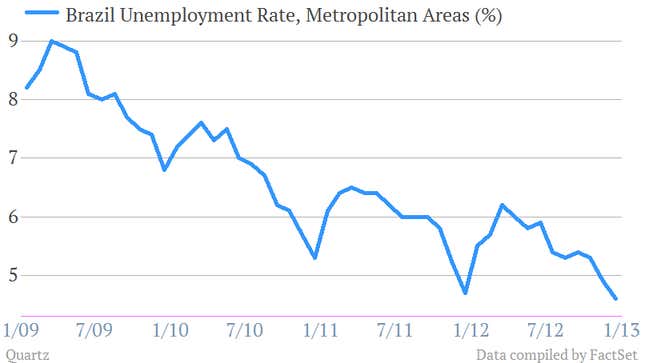 Brazil's stimulus program has cut borrowing costs to record lows, increased tax breaks, and boosted public spending, putting the country's GDP on track to increase some 3.2% this year.
The sectors that saw the greatest proportional hiring increases in 2012 were domestic services (a 7.6% increase), construction (4.6%), business (4.2%) and the industrial sector (3.6%). On average, wages increased 3.2% in 2012.
The downside of nearly full-employment and rising wages is persistently high inflation, which has not dipped below the central bank's target of 4.5% in nearly two and a half years. High consumption levels supported by low unemployment have buoyed demand for domestic credit, which plays a worryingly growing role in the Brazilian economy.