Warning: This post contains distressing images.
The devastating photos of a Syrian boy who drowned trying to get to Europe has sparked international outrage. But at the same time, there is more—much more—that governments in the Arabian Peninsula could do to provide shelter for desperate Syrians.
To date, the oil-rich Arab states have not offered to take in any of the refugees.
Many Arabs are turning to social media in anger at their countries' reluctance to open their doors. A hashtag, "receiving refugees is the people's demand," was started by people in Saudi Arabia and features a number of harrowing photos and powerful cartoons, according to Arab spring activist Iyad El-Baghdadi.
El-Baghdadi tells Quartz via email that while it's very difficult to judge "what people feel on the ground," the social-media response highlights the groundswell of outrage at the inaction of the region's governments.
Other hashtags include "Syrian child drowns" and "hosting Syrian refugees is a GCC [Gulf Cooperation Council] obligation." Some highlight the temerity of Gulf leaders criticizing Europe's response to the burgeoning refugee crisis, while others chide leaders for only donating money to humanitarian organizations instead of actively taking in refugees.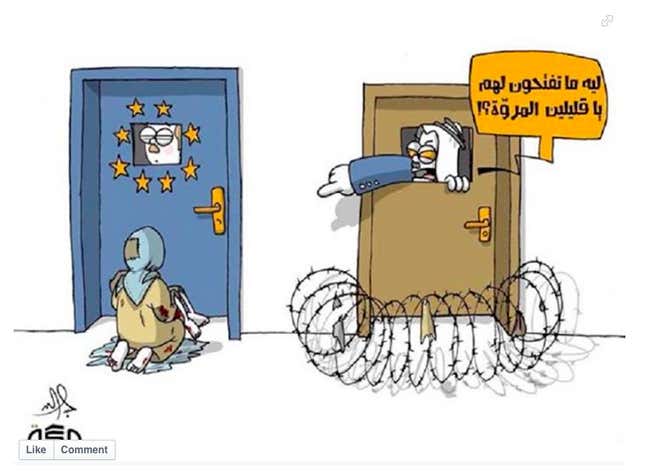 Translation: "Why aren't you letting them in, you have no decency!" [from Facebook]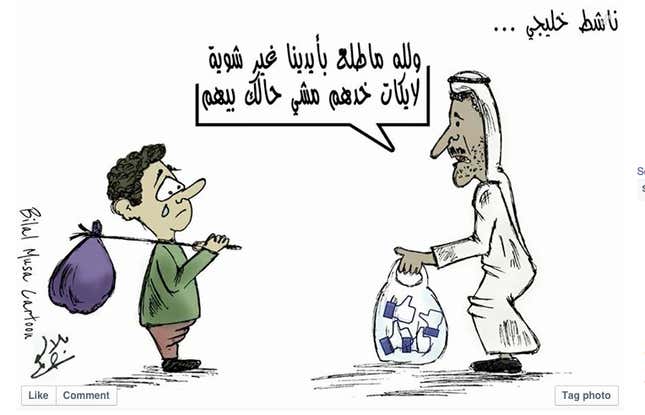 Translation: "We swear it turned out that all we could muster was a bunch of 'likes'. Take them and sort yourself out with them." [from Facebook]
A Lebanese accountant living in Dubai, who wished to remain anonymous, tells Quartz she was deeply moved by the photo of the drowned Syrian boy. "I know that this image won't change anything about the Syrian crisis but the least we can do as Arab citizens is to use social media to express our opinions about this tragedy," she says.
Translation: "#SyrianChildDrowns."
Will any of this make a difference? "These countries lack any real institutional way for people to propagate their demands up the chain—it's not like they can call upon their MP," El-Baghdadi notes. "They can't go out and demonstrate either—and they can't start to collect money (security rules)—so starting a hashtag is pretty much what they can do."