Toughened Indian Ocean security off of East Africa appears to have contributed to a shift in the business of piracy—from a focus on capturing and ransoming hostages, to stealing and selling oil. Less able to ply their accustomed waters, these new oil pirates have sprung up off the coast of West Africa, data show.
Attacks are down in East Africa, where Somali pirates are retiring against a tough response by various navies—there were 75 attacks off of East Africa last year, compared with 237 in 2011. But they are rising in oil- and metals-rich West Africa, with 58 attacks reported last year, compared with 49 in 2011.
The East Africa attacks were also sometimes on oil tankers, but with the goal of squeezing out large ransoms from the cargo-owners. The difference now is that the West Africa attacks are after the oil itself. On Jan. 21, for example, a tanker called ITRI was captured by pirates near Cote d'Ivoire; it has not been heard from since. Most of the oil attacks are off the coast of Nigeria, where pirates ply the Niger Delta.
The shift comes after an escalation of patrols off of East Africa by the US, UK, Chinese and other navies. Cargo and ship-owners have begun staffing ships with private, four-man armed security teams costing up to $50,000 per trip.
Look at this chart published in the Daily Mail using data from the International Maritime Bureau Annual Piracy Report and One Earth Foundation: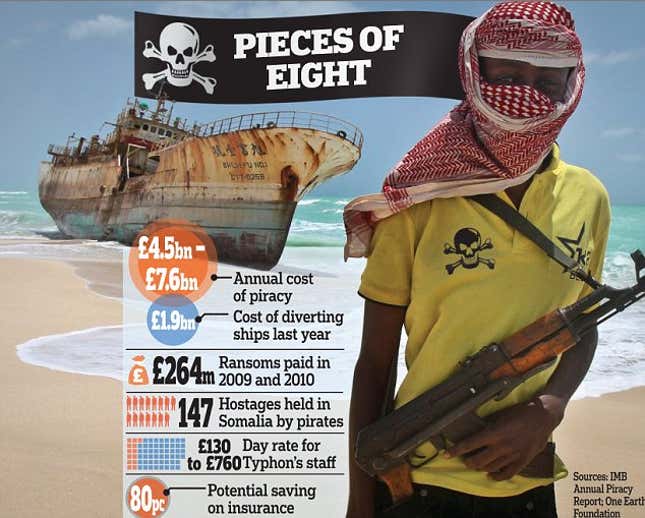 Simon Murray, chairman of Glencore, the commodities giant, has financed a new startup anti-piracy company called Typhon. In March, Typhon will launch its own small navy, staffed with dozens of former British commandos, starting with patrols off of East Africa and perhaps expanding to the West.  The company is getting much media coverage, including profiles about Anthony Sharp, a former technology executive who is Typhon's CEO.
I emailed about Typhon with a friend who is in the business of getting hostages released. "Proof of the pudding will be how they hold up under attack, of course," he said. "So far no [private armed guards] I have heard of has the firepower to take this on and win." But Typhon could do well for Murray himself. "Even if they just protect Glencore cargoes they'll be a useful asset," he said.
West Africa patrols are only just getting started. As of now, only the Nigerian navy polices the waters.