Indonesia finally made a big decision yesterday (Sept 3). For months it's been mulling competing offers from China and Japan to build a high-speed rail link between the capital of Jakarta and Bandung. Each side has been sweetening the deal while sending envoys to Jakarta to woo politicians. China is Indonesia's largest trade partner, and Japan its second-biggest investor, so there were diplomatic sensitivities for Jakarta to consider.
But in the end president Joko Widodo, with help from the cabinet he recently reshuffled to reassure investors, gave practical—not political—reasons for going with neither partner and scrapping the idea altogether.
As Darmin Nasution, the nation's new coordinating minister for economic affairs, explained, the distance between the two cities is only 150 kilometers (93 miles) and the trip the involves a number of stops. So it'd be difficult for a high-speed train to achieve its trumpeted speeds of 300 kmh (188 mph) in the first place.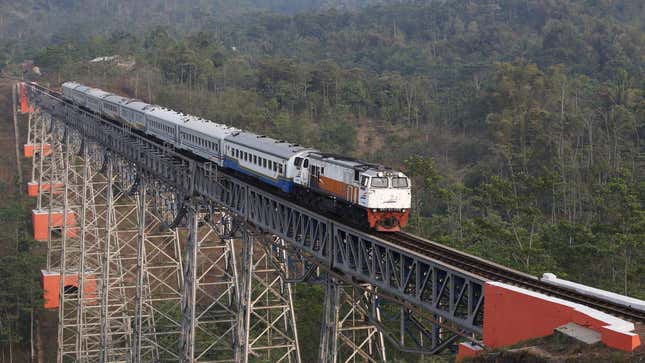 Nasution said a medium-speed train would make more sense, cost 30% to 40% less, and be only about 10 minutes slower. The high-speed rail promised to cut the time from about three hours currently to 35 minutes. Apparently 45 minutes is fine with the cabinet, considering the enormous savings: the high-speed project would have cost about $5 billion.
While a medium-speed line might not be as sexy, Nasution welcomed China and Japan to bid on that, too.