On Sept. 9, Apple is expected to unveil a new version of its Apple TV streaming media box. It's the latest twist in a story that goes back more than 20 years, when Apple started trying to build mainstream television products on top of its capable-but-then-struggling Mac computer platform.
Macintosh TV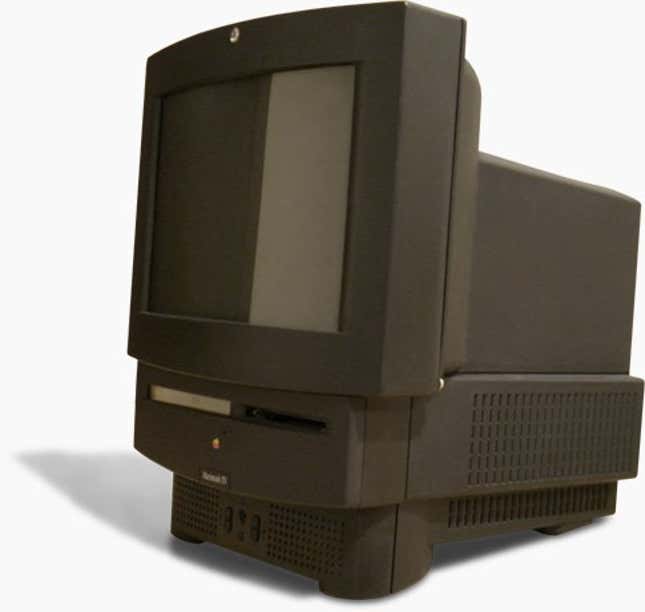 In October 1993, Apple introduced an all-in-one computer called the Macintosh TV.
The device was a black version of one of Apple's consumer-focused "Performa" Macs, which shipped with a 14-inch screen, built-in TV tuner card, and a remote control.
It reportedly cost almost $2,100 at launch, which is almost $3,500 when adjusted for inflation.
The Mac TV was not a hit, and supposedly only 10,000 were made by the time it was discontinued in early 1994.
TV tuners were included in other Mac products around that time, including the 20th Anniversary Macintosh, which was released in 1997.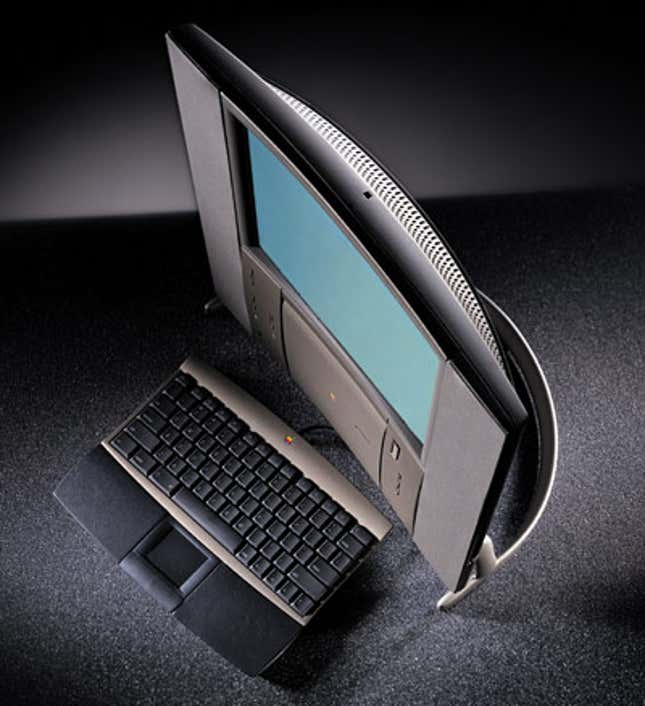 Apple Interactive Television Box
In the mid-1990s, through 1995, Apple built prototype television set-top boxes, "designed as an interface between a consumer and an interactive television service," according to Shrine of Apple.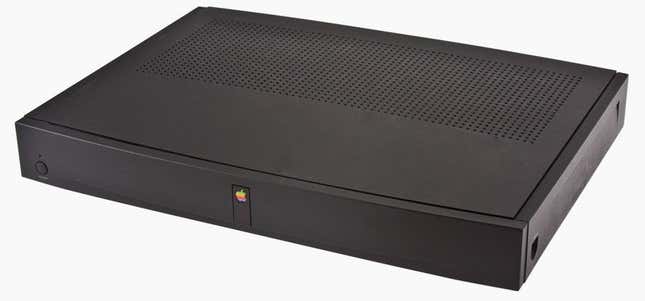 A paper from BT (pdf), which was one of Apple's trial service-provider partners, explained some of what the device was designed to do:
The [interactive multimedia services] market trial will also provide, in addition to video on demand, many other services including home shopping, home banking, community information, education services and video games download.
This sounds like many of the features that, two decades later, might become available with the newest, forthcoming Apple TV box.
Apple still hosts a user manual for the device (pdf), including various illustrations.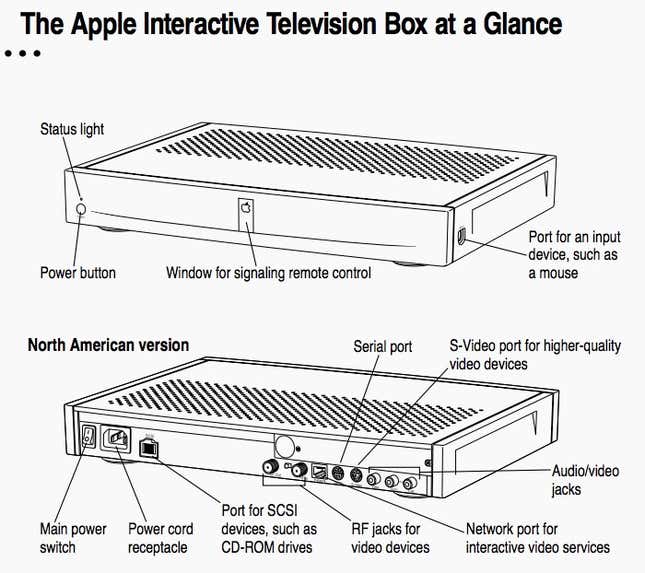 Pippin
Pippin was the last of Apple's 1990s-era attempts to take on television, before Steve Jobs returned as CEO and focused the company on fewer products. It was essentially a Mac-based gaming console that could also run other consumer software.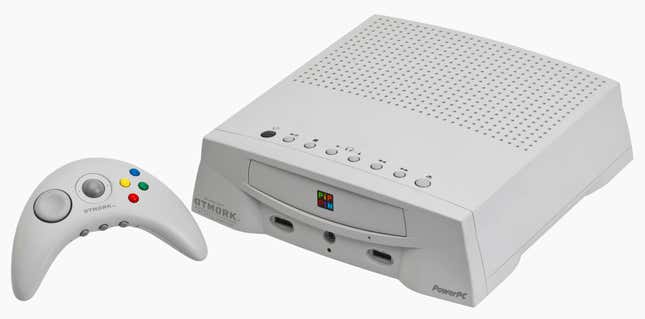 The Pippin platform was designed to "provide developers with an easy way to take their investment in personal computer CD-ROM content and make it available to a wider audience in a more natural environment associated with entertainment and fun," according to The Mac Geek.
Bandai, the Japanese toy and gaming firm, was the only company to launch Pippin-based devices, the Atmark and @World. They flopped. (Photo via Wikimedia Commons, uploaded by Evan-Amos under a Creative Commons license.)
Front Row
In the early 2000s, consumer digital video began to proliferate. Apple was selling more Macs, broadband internet access was becoming ubiquitous, and the iTunes store was selling music videos, short Pixar films, and Disney TV shows. The computer was becoming a place to watch "lean-back" video.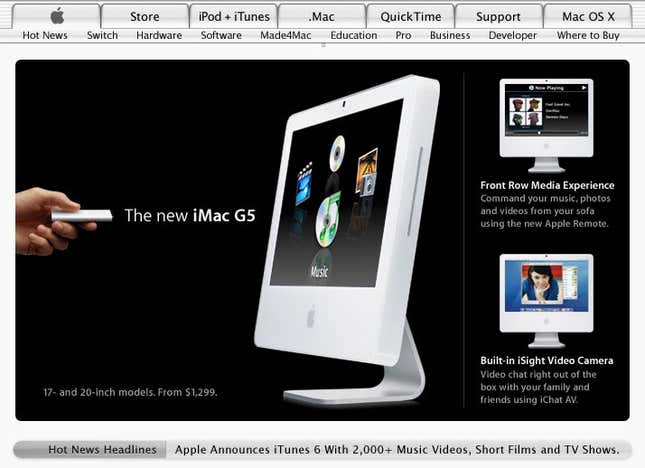 So in 2005, Apple launched a new feature for OS X called Front Row—calling it a "breakthrough" media experience—and started bundling a tiny, simple remote control with its new Macs. The idea: Watch home movies, iTunes videos, photo slideshows, and DVDs from "up to 30 feet away" using the new remote. The Mac could now more easily double as a bedroom—or dorm room—TV.
Front Row was a clever widget, but its promise would be much more obvious on an actual widescreen television.
Apple TV and 'iTV'
In late 2006, Steve Jobs made a rare move: He pre-announced an Apple product that wouldn't become available for several months.
At an iPod product event in September, Jobs introduced Hollywood movie purchases for the iTunes store, and then offered a sneak peek at a device—code-named "iTV"—that resembled a flattened Mac mini.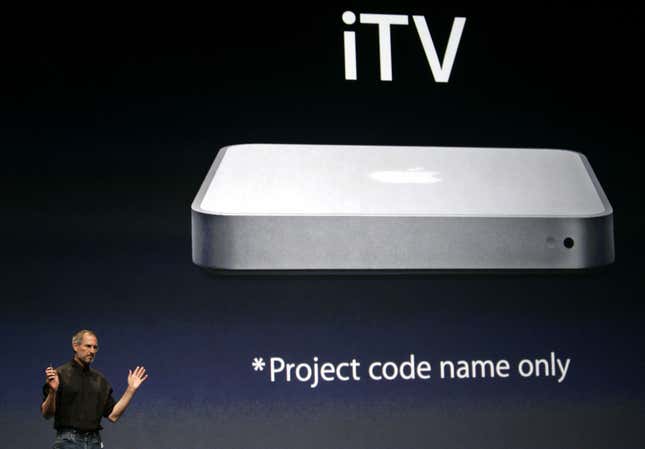 iTV—re-revealed as Apple TV in January 2007—used the same little remote that Apple had been shipping with Macs, and was designed to feed a big-screen TV with the movies, TV shows, music, podcasts, and photos that were on your Mac or PC.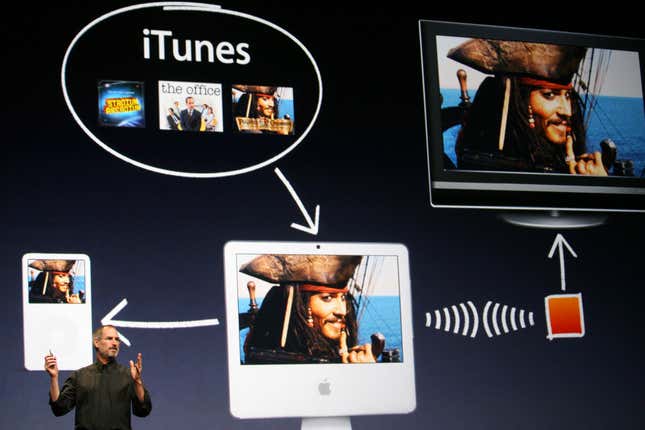 It eventually shipped in March 2007 for $299. In June, Apple added support for YouTube streaming.
This first device was an interesting concept, but its limitations and price kept it niche. In late 2009, even after a price cut and a few software updates, Apple TV was ranked no. 297 on Amazon's list of its best-selling electronics. In public, Apple referred to this product as a "hobby."
A year later, though, Apple made a big step forward.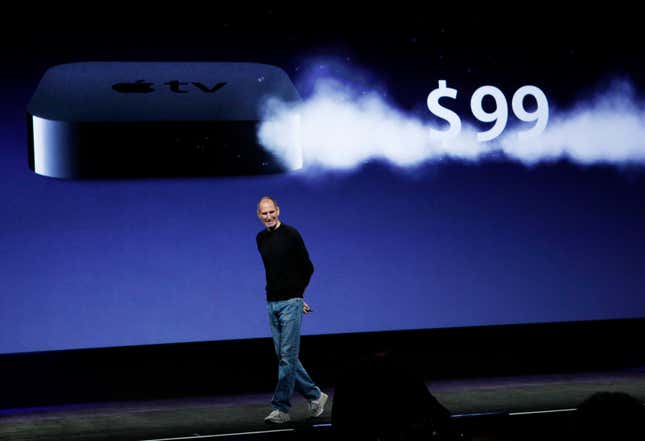 In September 2010, Jobs announced the second-generation Apple TV, which was smaller, only $99, and supported a wider range of hi-def content, including Netflix streaming. It was a hit.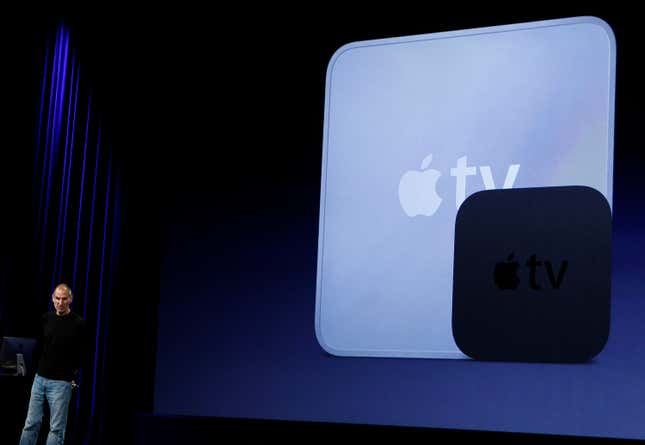 Since 2010, Apple has gradually tweaked the device, its interface, and its content library, which now includes streams from most major sports leagues and TV networks, and most recently, its price.
But it has not made any major changes—until now.