Mark Zuckerberg is on the cover of the October issue of Vanity Fair, in a portrait taken by legendary photographer Annie Leibovitz. Usually such a sitting would require (at least) a rack of clothing and a team of assistants led by the magazine's fashion and style director, Jessica Diehl.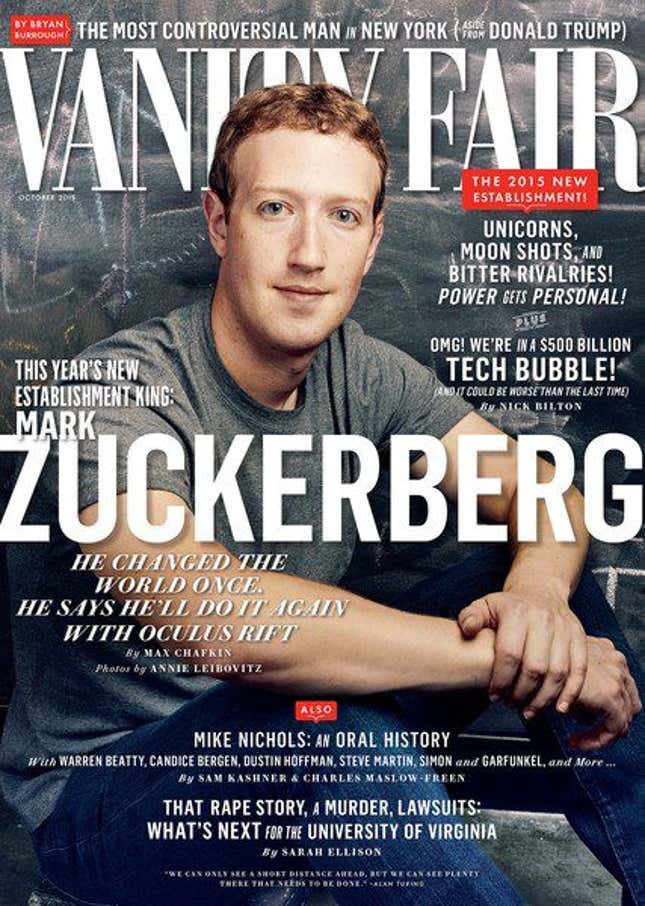 When I saw the new cover, with Zuckerberg in his signature grey tee and blue jeans, I wondered whether Diehl had styled the cover in a genius homage to the Facebook founder's personal uniform. In the past, he has attributed his perennial look to a desire to focus his energy on important business decisions, rather than what he characterized as "silly or frivolous" choices, such as what to wear. (The personal uniform here becomes the fashion analog of meal-replacement beverage Soylent.)
I pictured Zuckerberg, safely protected from decision fatigue, while assistants pored over a rack of luxury approximations of his everyday grey tee. Armani or Vince? Lang or Wang?
Alas, a Vanity Fair spokesperson has confirmed, there was no stylist for this cover, and no designers credited. Zuckerberg wore his own clothes, saving everyone involved in the cover shoot from wasting their brain capacity on fashion.
Despite Diehl's recent statement that the magazine's cover "is not your casual-jeans Tuesday" (in reference to Vanity Fair's issue starring Caitlyn Jenner), Zuckerberg's Tuesday cover suggests otherwise.
Perhaps it's fitting, as this month's "New Establishment" issue is all about power. In this context, nothing says power quite like telling Vanity Fair, "I'll wear my own clothes. Thanks."