Sorry Saudis, but you won't get your copy of National Geographic this month. The magazine put Pope Francis on the cover, flagging a big story inside about his "silent revolution" at the Vatican. In Saudi Arabia, the issue has been banned for "cultural reasons."
There's no official statement from the Saudi government spelling out its cultural opposition to the magazine. National Geographic's regional editor-in-chief, Alsaad Omar Al Menhaly, made the following announcement in a tweet:
It says:
Dear readers in Saudi Arabia, we apologize for you not obtaining August's magazine. According to the publishing company, the magazine was denied entry for cultural reasons.
Chief Editor
The cover story addresses Pope Francis' reforms and his hope to create a church "that is poor and for the poor." From his bold pronouncements on climate change and divorce, to his recent call for parishes to take in refugees, some see the current Pope as a (relative) revolutionary.
Wahhabism is the dominant faith in Saudi Arabia, which insists on a literal interpretation of Islam. David Kenner at Foreign Policy reckons that Saudi Arabia is rattled by the Pope's reforms of his church, given the strict rigidity of Wahhabism.
This isn't the first time the mostly nature- and science-focused magazine has been censored in Saudi Arabia. Earlier this year, a line of text about evolution was emitted from the magazine's "War on Science" issue. The irony was not lost on many.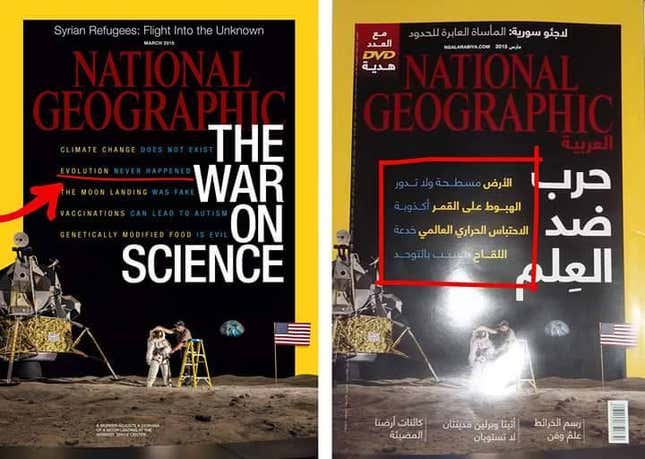 "Unfortunately, it has been the trend in the Middle East to suppress any voice that doesn't run with the ideological mainstream currently governing the region," Issam Fawaz, CEO of I Believe in Science, a website dedicated to informing Arabs about the latest developments in science, told Quartz via email.
Kacem El Ghazzali, a secular activist from Morocco who is currently serving as International Humanist and Ethical Union's representative at the United Nations, notes that scores of "scientific, secular, and philosophical" are banned in the kingdom, as are "thousands of blogs and websites." What's more, "contrary to most Arab countries, Saudi Arabia never tries to hide its intentions and recognition of censorship," he told Quartz.
When contacted by Quartz, a spokesperson for the National Geographic Society said that "we are aware of the issue, but we are still currently in the information gathering phase."