Fox News is about to become a sister company to National Geographic, the glossy magazine of the National Geographic Society. The $725 million deal creates an unlikely pairing: a magazine that has promoted environmental conservation since the 1800s, joined to one of the driving forces behind climate change denial in the US.
It shouldn't be a surprise that the deal has inspired some hand-wringing and criticism.
In the deal, Rupert Murdoch's 21st Century Fox—which owns the 20th Century Fox movie studio, Fox television network, and the conservative Fox News Channel—will take a majority stake in National Geographic magazine and other media properties, expanding on an existing TV partnership. The new venture will transform the not-for-profit publication into a for-profit company that will be 73% owned by 21st Century Fox, and run by a board split between the two partners.
Rupert, 84, is a self-described "climate change skeptic."
But before they despair, critics of the deal might want to ponder a few things. Although Rupert is the executive co-chairman of 21st Century Fox, this summer he made his son James chief executive of the company, part of Rupert's process of handing the reins to the next generation.
According to a 2009 interview in the Guardian, James proudly drives a Prius, and he preaches the necessity of "basic science literacy" to address climate change now, when it is "crunch time."
His wife, Kathryn, is an environmentalist who worked with the Environmental Defense Fund and the Clinton Climate Initiative. Together, they've founded the Quadrivium Foundation, a non-profit that works on sustainable fishing, among other causes.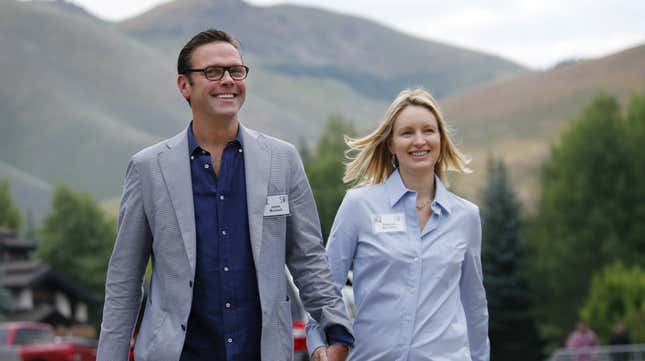 Being a good conservative means being a good environmentalist, James also wrote in a 2009 Washington Post op-ed:
Conservatives have a robust tradition of principled concern for the environment. It was, after all, Teddy Roosevelt who created five national parks and signed the Antiquities Act. It was Richard Nixon who established the Environmental Protection Agency, and George H.W. Bush who ushered in one of the greatest environmental success stories, the 1990 cap-and-trade plan to take on acid rain.
James's new job could usher in a new type of climate change coverage for Fox News, as the Huffington Post pointed out earlier this year. The nearly $1 billion investment in National Geographic might signal 21st Century Fox's first steps in that direction.
If so, there's a lot of work to do. On-air Fox News commentators and guests have called climate change everything from a hoax that denies Americans their freedom to a politically-created fraud.
Fox News and other conservative news outlet's denigration of mainstream science, and support of fringe, often industry-backed experts and studies has also helped create a distrust of scientists and climate change realities, a university study found (pdf).
National Geographic, on the other hand, has scooped up dozens of major awards (pdf) on its extensive work related to the perils of a warming planet. Like many print properties, it has struggled to adapt to the digital era—circulation has fallen over 20% in the past three years, as the Washingtonian reports. Still, it has over 3 million paid subscribers, as well as a popular Instagram account and $55 million in annual revenue.
The new deal will allow the National Geographic Society to double its investments in science, research, and education, a statement about the deal explains. In the same statement, James said, "We believe in the Society's mission of bringing the world to audiences through science, education and exploration."
National Geographic's millions of global fans are hoping he really means it.