SpaceX just showed off the interior of its new Crew Dragon ship that will transport astronauts to the International Space Station (ISS). The launch video released today (Sept. 10) looks like something a luxury car manufacturer might use to show off a new sedan.
And SpaceX's website has a similar car-company-like tone:
Crew Dragon was designed to be an enjoyable ride. With four windows, passengers can take in views of Earth, the Moon, and the wider Solar System right from their seats, which are made from the highest-grade carbon fiber and Alcantara cloth.
Perhaps CEO Elon Musk has brought over some copywriters from his other company, Tesla Motors, because if you swap out "Earth, the Moon, and the wider Solar System" with "the highway," it would sound right at home on the electric-car company's product page for the Model S.
SpaceX tested out the Crew Dragon's ability to keep astronauts safe in May. The company is developing the ship for NASA as part of the space agency's Commercial Crew Program, which aims to bring "cost-effective access" to the ISS, as well as pave the way to develop ships for manned missions to Mars in the 2030s. (Boeing has a separate manned ship project as well.)
The Crew Dragon's four windows will give astronauts a great view of the cosmos as they sit strapped into an interior that looks like a cross between a cutting-edge dentist's office and how Apple might envision a car.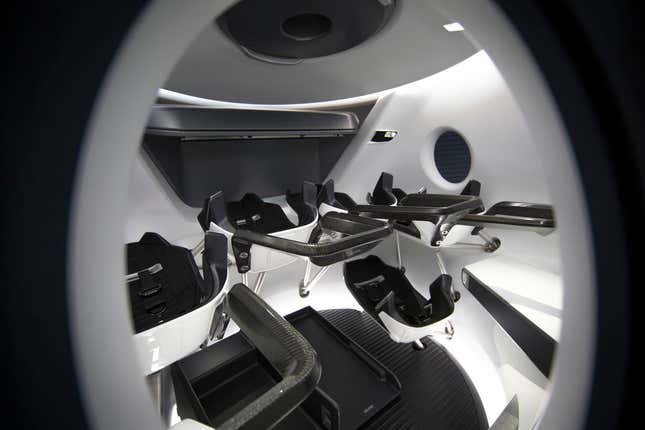 According to SpaceX, the ship will have a climate-control system that will allow astronauts to set the temperature in the Crew Dragon between a very comfortable 65 and 80 degrees Fahrenheit. No word on whether there will be a tape deck.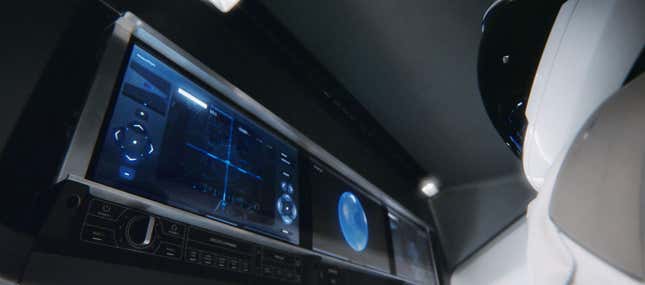 The Crew Dragon will have real-time information on the ship's status, and where it is in space, rather like the moving maps on modern planes, but a bit more useful.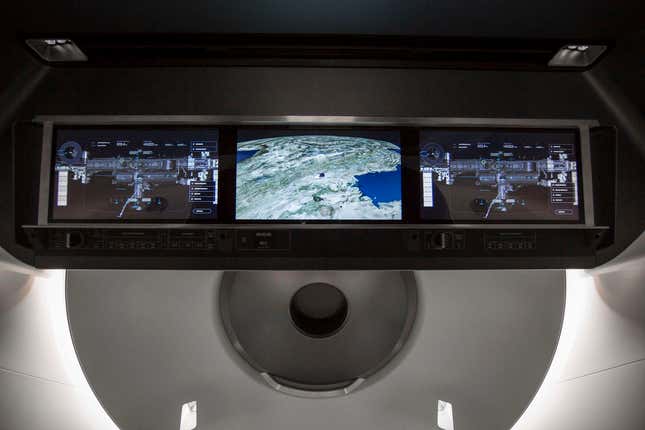 The support structure at the back of the seats look like something that could be found in a race car. SpaceX said that were anything to go wrong, the Crew Dragon's emergency escape system would "swiftly carry astronauts to safety" with the same amount of G-force found on a ride at Disneyland. It's not certain if the ride in question is Space Mountain.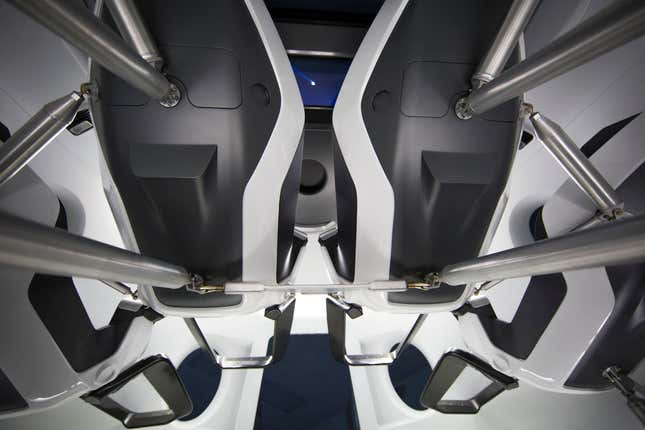 The Dragon Crew will be self-driving, rather like the Tesla Model S, but astronauts and mission control will both be able to take control if need be. Hopefully astronauts won't mistakenly press the "Deorbit Now" button when instead trying to depressurize the cabin, though.