Japan's population of centenarians now exceeds 61,000, the nation's health ministry announced today (Sept. 11). Just over 87% of them are women. In 1998, the number was a little over 10,100—meaning the nation has gained about 50,000 centenarians in the past 17 years. This year marks the first time the figure has passed 60,000, though the nation has been hitting record highs for 45 straight years.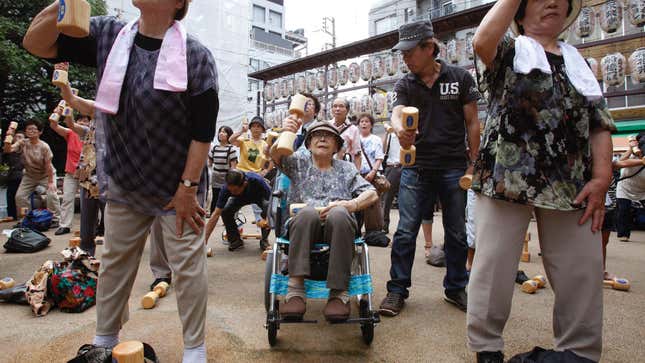 Traditionally anyone reaching the once-remarkable age of 100 in Japan has received a commemorative silver sakazuki, a flat saucer-like cup, on Respect for the Aged Day in September. But the cost of doing that has added up. Last year the government spent 260 million ($2.2 million) on the effort, with each cup costing about 8,000 yen. This year it announced it will replace the cups with something cheaper.
Meanwhile the number of births in Japan hit a record low in 2014, to just over 1 million. It was the fourth straight year of record lows. Many women put off marriage because Japan's old-fashioned corporate culture, together with a shortage of childcare, would force them to give up their careers. At work getting pregnant could mean facing matahara, or "maternity harassment," from one's boss and coworkers.
The figures point to the challenges Japan faces with its graying population, as an ever-dwindling pool of workers must pay for the growing number of pensioners. More than a quarter of Japan's population is over 65, and that percentage is expected to exceed 33% in two decades.