After Ben Carson, candidate for the Republican nomination for president and pediatric neurosurgeon, claimed he had never seen scientific evidence for man-made climate change, California governor Jerry Brown delivered the proof–on a flash drive.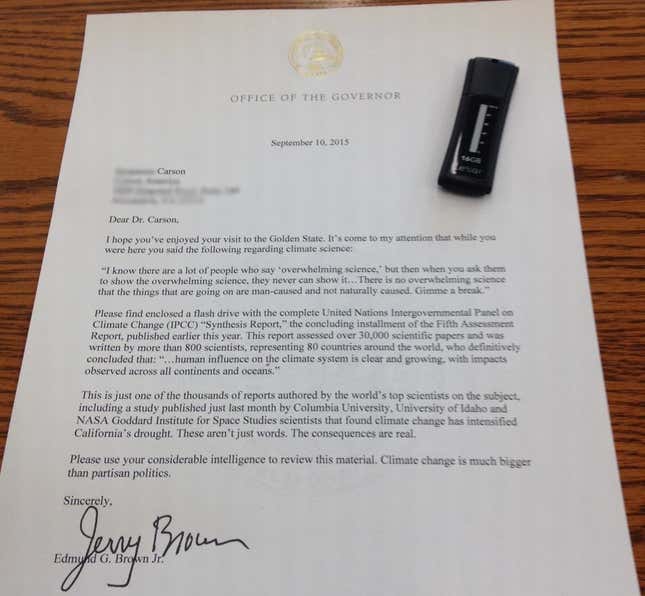 Brown's press office tweeted a photo (above) of the letter and flash drive that he sent Carson after reading the presidential candidate's comments in an interview with the San Francisco Chronicle last week. "I know there are a lot of people who say 'overwhelming science,' but then when you ask them to show the overwhelming science, they never can show it. There is no overwhelming science that the things that are going on are man-caused and not naturally caused," Carson said.
In response, Brown delivered what he called "overwhelming science"—in the form of a United Nations report that reviewed over 30,000 scientific papers on the subject, "written by more than 800 scientists, representing 8o countries around the world, who definitively concluded that '… human influence on the climate system is clear and growing, with impacts observed across all continents and oceans.'"
Brown concludes with a plea to Carson: "Please use your considerable intelligence to review this material. Climate change is much bigger than partisan politics."
On CNN, Carson's aides responded that he was a "climate questioner," not a "climate denier," and said that he still was open to being convinced.