China's stock plunge a few weeks ago seriously spooked luxury investors. Combined with China's earlier move to devalue the yuan, it signaled less spending power for Chinese shoppers, on whom some brands, such as Swatch, Richemont, and Salvatore Ferragamo, rely heavily for sales.
But just focusing on the last few weeks misses the bigger picture. Despite the slowdown at home and a slight hiccup in Chinese tourism, Chinese spending abroad is still spiking overall, and that's great for luxury fashion labels.
With favorable currency rates, and without the heavy import duties, luxury products are much cheaper for Chinese shoppers in Europe and Japan. Even given the yuan's devaluation of about 3% last month, which instantly made everything more expensive to traveling Chinese shoppers, the yuan is up around 10% in value relative to the euro compared to last year.
Data from Global Blue, a service many tourists use to get certain taxes refunded on purchases made abroad, shows that spending by Chinese tourists was up 75% in the first six months of the year, and up 72% in August alone, as the Wall Street Journal reported (paywall). The average amount that European companies collected per Chinese tourist this year is €981 (US$1,108), a 7% bump over last year.
"The role of the international destination, most specifically Europe and Japan, has only become more important for the Chinese consumer in the past 12-18 months," Brian Buchwald, CEO of consumer intelligence firm Bomoda, tells Quartz. Estimates vary a little on what share of Chinese luxury spending occurs outside China, but sources generally agree it's greater than 50%, and rising. Buchwald says it's now 80%, up from about 60% five years ago.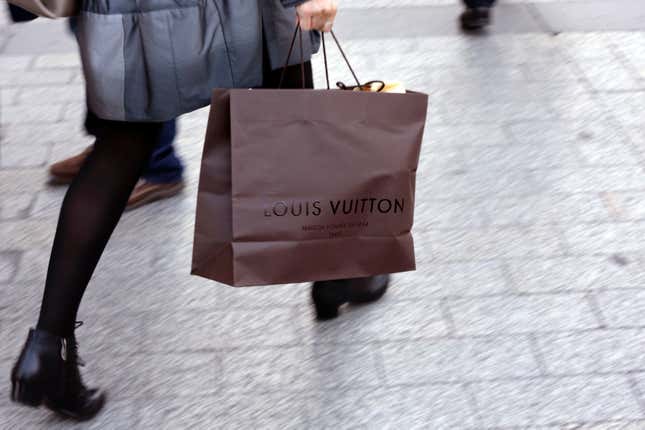 As China's middle class rapidly expands, those numbers will likely grow with it. A report last year by CLSA, a brokerage and investment group in Asia, forecasts that by 2020 outbound Chinese tourists will number 200 million annually—double the amount that traveled last year. The amount they spend abroad will triple.
The force propelling that travel is China's rising GDP, and CLSA's research suggests there's a sort of inflection point after which travel takes off. "Historical evidence in other Asian countries suggests that per-capita GDP growth beyond US$8,000 triggers explosive outbound travel," the report states. By 2020, the share of Chinese provinces with per-capita GPD of $8,000 or higher is set to increase from 10% to 27%, according to CLSA. The populations of those provinces will also rise, from 500 million to 1.2 billion.
Aside from products being cheaper, shoppers also like to buy overseas because they need not worry so much about inadvertently buying knock offs, which still plague China (and luxury brands).
And there are plenty of people buying in order to make money off those purchases. Global Blue says as much as 40% of Chinese tourist buys abroad are for the purpose of reselling in China for profit.
The proliferation of daigous, overseas agents who buy goods on behalf of customers in China—and frequently advertise their services on Instagram—also contributes to overseas sales. In fact, between travelers and daigous, Bomoda estimates that "over 50% of all luxury goods purchased in Europe eventually find their way to Mainland China."
Unless something catastrophic were to happen to China's economy—on an order far greater than what's already occurred—luxury brands can probably continue to look to Chinese shoppers as a major source of revenue. And investors can relax.