New York Fashion Week was once all about the clothes on the runway, but increasingly, it's the models that everyone is looking at. As a conversation about diversity and beauty standards plays out on the catwalk, a show's cast can invite more commentary than the clothes they are wearing.
Perhaps none has made more of an impact this season than the cast at Eckhaus Latta, which has been called the "coolest" by mainstream media such as Vogue and The New York Times. For a few seasons now, this show has been expanding and challenging my own ideas about what is cool and beautiful.
Eckhaus Latta's runway feels a bit like a New York City sidewalk. Some people are fast, aggressive walkers. Others have dark hair on their legs, or silver hair on their heads. A few of them are even starting to look familiar, season after season.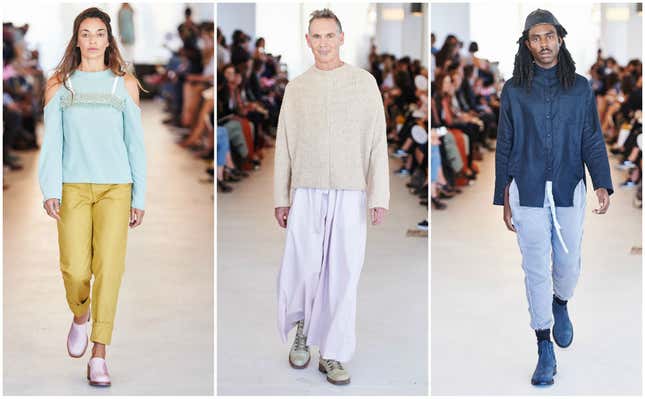 That's not because they're all uber-famous supermodels (though some, such as model Mari Giudicelli and musician Devonté Hynes, are notable faces), but because designers Mike Eckhaus and Zoe Latta continuously ask their friends and family to participate in their Fashion Week presentations. These non-models, whom Eckhaus and Latta call "nodels,"  walk along with professional models. The "nodels" include musicians, artists, godparents, and other designers. They are short, tall, thick, thin, hard, soft, and all different colors.
The effect is not only a diverse cast on the runway, but a warmly intimate feeling at the show.
The models and "nodels" don't look like one another, but they still share something in common, which is a connection to the label's designers. Eckhaus and Latta cast the show themselves rather than working with an agent, as is common industry practice, so the cast feel like an extension of the people behind the brand, and a gorgeously motley crew at that.
Fashion often prizes exclusivity, but when it comes to casting, inclusivity is the way forward. Hood by Air's Shayne Oliver continues to show a wide spectrum of gender and race on the catwalk, and this season Chromat designer Becca McCharen, who has dressed performers including Beyoncé and Nicki Minaj, presented her neo-athletic looks on an impressive range of body types.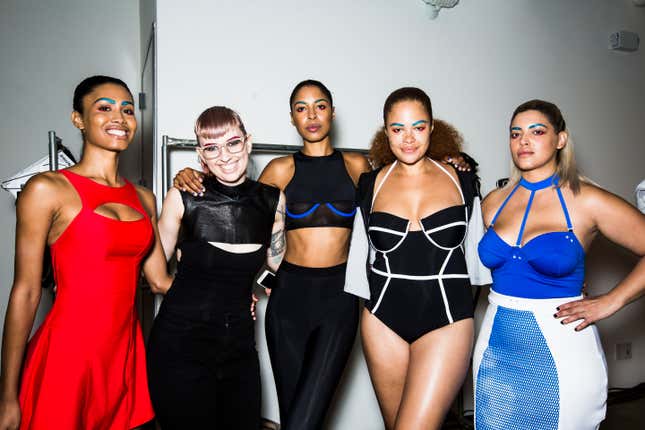 Earlier this week, the media cheered for Madeline Stuart, a model with Down Syndrome who walked the runway at FTL Moda, a group show of designs made in Italy. FTL Moda partnered with Global Disability Inclusion and the Christopher & Dana Reeve Foundation for the show, where one model removed her prosthetic arm on the catwalk, and another took a turn in her wheelchair.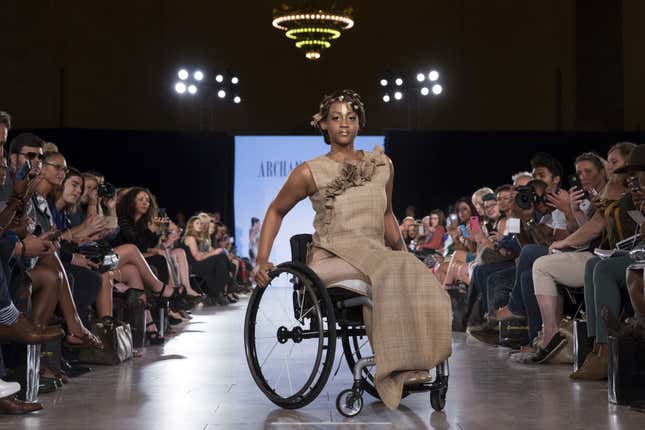 On Sept.15 in the Daily Mail, Piers Morgan took Victoria Beckham to task for sending out models he described as "painfully thin" and "painfully miserable." Morgan mostly ranted, but he did raise the point that the casting seemed inconsistent with Beckham's wishes for "women to feel like the best versions of themselves."
Perhaps Beckham should take a page out of Eckhaus Latta's book next season, and cast some of her fabulous friends, of varying ages, shapes, and sizes, to walk in her show. Just look what it did for Tom Ford.