Last year, the Silicon Valley real estate company Sand Hill bought up a failed shopping mall. Now, it wants to turn the 50-acre property into an urban center with the world's largest green roof. The project is ambitious: build a mixed-use town center complete with an orchard, vineyard, playground, 3.8 miles of walking trails, and a 30-acre rooftop park to top it all.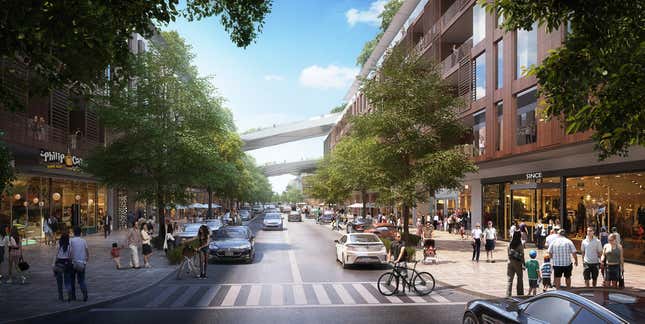 The plan for the redeveloped space would also include a 15-block street grid with 625,000 square feet of retail space, 2 million square feet of office space, and 800 apartment units. The design is by architect Rafael Viñoly, who has also designed curved skyscrapers in London and the super tall, skinny high rise at 432 Park Avenue in New York City (for now, the tallest residential building in the Western hemisphere).
Sand Hill chose Viñoly's design after the architect assembled a miniature model of the town center during his pitch, the Silicon Valley Business Journal reports. Viñoly is working with Olin Landscape Architects, a firm that worked on Apple Campus 2.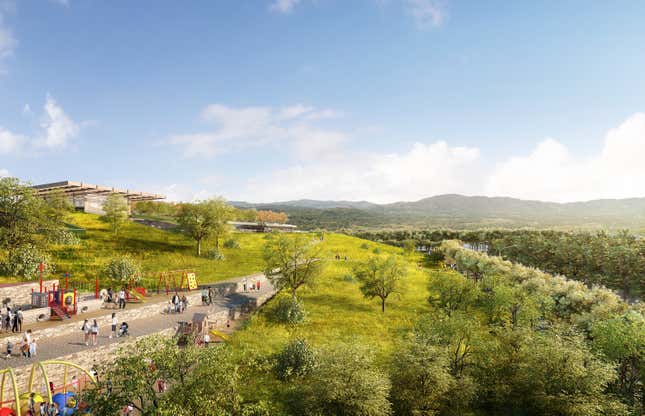 Reed Moulds, the managing director at Sand Hill, described the project as a public amenity. "It was everything we asked for coming together in one unified form and concept," he told the Journal.
But before it can move forward, the project has to be approved by the city of Cupertino. Sand Hill has submitted an application and plans for the center, Moulds told Quartz in an email.
Some have raised questions about the feasibility of the project, but funding, at least, may not be an issue. Sand Hill founder Peter Pau said in an interview last year that the US subsidiary of Abu Dhabi's sovereign wealth fund has been a major investor in the redevelopment of the Vallco shopping mall. And, the Silicon Valley Business Journal points out, that's "the kind of capital that doesn't require an immediate return on investment."