Some of New York's biggest up-and-coming fashion talents showed their collections under one roof this week, though even fashion insiders don't know their names—not yet anyway.
The designers were graduating students in the fashion MFA program at Parsons School of Design, which is consistently ranked among the world's top fashion schools. Even amid myriad other showings from professionals at New York Fashion Week, their work felt bold and exciting. But what's also notable is that Chinese students made up nearly half their number. Five of the 11 who showed were Chinese—far more than any other nationality. In fact, no other country had more than one student represented.
According to Shelley Fox, the director of Parsons' MFA fashion and design program, China's presence is only growing. "What I am seeing is more students applying from China," she told Quartz. "It's just more of the proportion, and they're very, very strong." Not all students in the graduating class presented their collections, but across the class, said Fox, Chinese students outnumber other nationalities.
At the Parsons show, some of the most accomplished and intriguing pieces were from Pengji Cai, Long Xu, and Sisi Liu, all Chinese students. (It's worth noting that students of other origins showed impressive work as well, including Australian Katherine Mavridis and Varpu Rapeli of Finland.) Their clothes weren't always the most practical or commercial—students aren't subject to the intense pressures of merchandising and sales—but they were inventive in their use of materials, shapes, and proportions.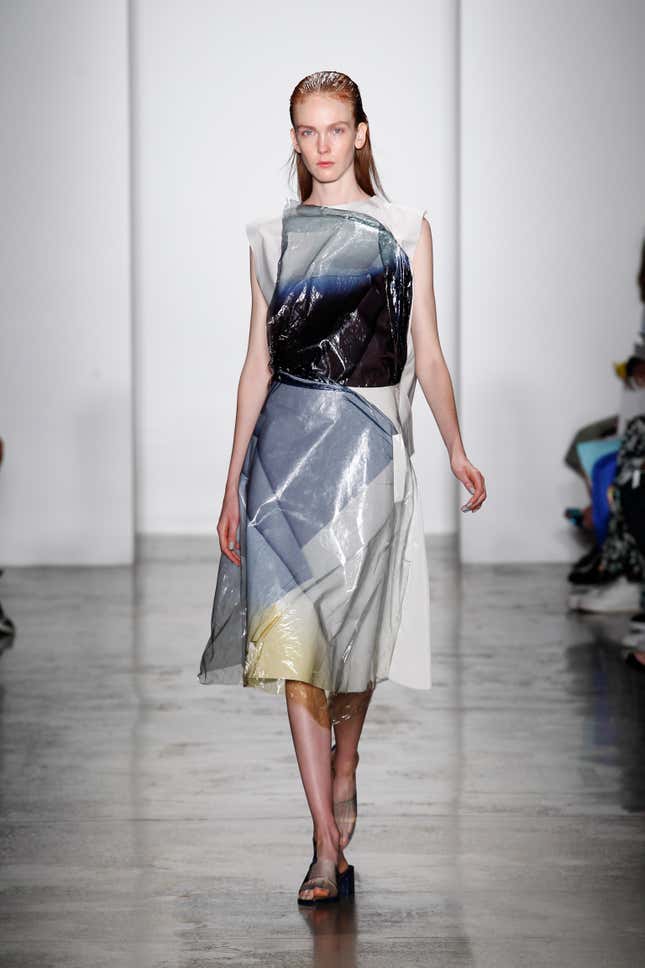 The increase in students from China may also signal a shift in China's role in the world. While it's still manufacturing much of the world's stuff, especially clothing, China is also evolving into a leader in design.
"This idea that people had of China—[that] they wait to see what Europe does, what the West does, then copy it—it's long gone," says Fox. "They're finding their own voice."
Several schools in Beijing, including Tsinghua University, Beijing Institute of Fashion Technology, and the China Academy of Art, have excellent programs adept at training students and placing them at top graduate programs around the globe. Fox notes that UK design schools, which also rank among the world's best, are seeing more Chinese students as well.
New York offers an additional draw, though, in that students on the OPT visa—it stands for Optional Practical Training—are able to remain in the US and work legally for one year after graduation, whereas they can't in the UK.
Some Chinese students have immediately struck out with their own lines and found success. Jia Hua, who graduated Parsons MFA program in 2013, was nominated for the H&M award last year. Andrea Jiapei Li, a 2014 graduate of the MFA program, was a finalist for the prestigious LVMH prize, and her line was picked up by the high-end boutique Dover Street Market, which is owned by the label Comme des Garçons. Ximon Lee, a former Parsons undergraduate, actually won the 2015 H&M award, making him the first menswear designer to do so.
Other students enter top jobs in the fashion industry. Among the labels where Parsons alumni have landed are Burberry, JW Anderson, DKNY, Opening Ceremony, Alexander Wang, Nike, and Under Armour.
One of the students who presented in the Parsons show this past week, Pengji Cai, was hired in May by Oscar de la Renta for his draping skills. On Sept. 15, his work walked the runway at New York Fashion Week.