This video, from the West Bank village of Nabi Saleh, may seem, at first, straight forward. A masked Israeli soldier attempts to detain a 12-year-old Palestinian kid, whose left arm is in a cast. The solider places the boy in a chokehold and eventually positions his body on top of him, slapping away the kid's sister, mother, and aunt. There is much alarm and helplessness, but eventually the soldier gives up and walks away, albeit not before throwing a tear gas grenade into the gathering crowd.
Shot at the end of August, the video quickly made the rounds on social media and news outlets. Many viewers think the footage shows something important about Israel's military rule in the West Bank. Opinions differ, however, as to what exactly that "something" is.
Some argue that the incident is typical of Israel's occupation, in which control is achieved through fear and intimidation rather than consent and cooperation. But this reading of the situation is puzzling. Common as such incidents are in the Occupied Territories, what we see in the video is the failure of control by force. We see a boy, a girl, and two grown women overrun an armed soldier.
Others who watched this video (such as Israeli minister of culture and sport) claim that the video proves IDF soldiers practice too much restraint. The idea is that soldiers are forbidden to use the full extent of their force in these types of situations. Surely, however, the soldier should not have shot those women and children. Was it not enough that the soldier wore a mask and carried a loaded gun? And, besides, what would the additional force have achieved in such a predicament, besides death or injury?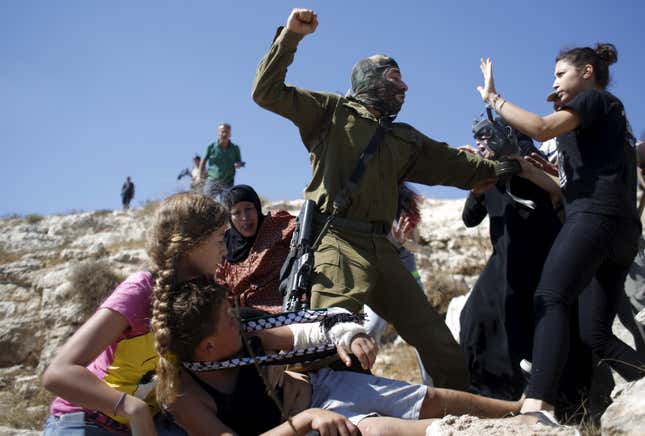 Both perspectives include kernels of truth—military control does involves routine violence while the actions of the soldier in the video, despite their undeniable violence, do show a certain degree of restraint. These observations seem to be in tension with one another, but they are both true. That is because Israel's military rule—and perhaps any military rule­—is a regime sustained through inherent instability. Israel's rule in the West Bank and Gaza is not a rule of law and law enforcement nor is it an all-out war, in which independent political communities clash. Rather, the Israeli occupation is a rule of orders backed by threats and retaliation. It is an all-in war, where there is nowhere to hide and no way to surrender, and in which the enemy can never be beaten.
It is a war that never ends because it has no objectives. Unlike an all-out war, Israel's military occupation is not an obstruction of peace; it is the replacement of peace. It is the institution of war as a way of life.
Fourteen years ago I served as an IDF soldier at West Bank checkpoints. We were constantly reminded by commanders that the millions of Palestinians who surrounded us did not want us there. Any rule, regulation, or order can and will be manipulated and disobeyed if we only give them the chance, they told us. No one—from an old man to a pregnant woman to a child—can be assumed to be innocent. There was no way of telling who might be lying in order to go to school, or who might be lying with malicious intent.
Soon enough, it didn't matter to us anymore.
We learned to look for danger where it seemed least likely. We saw ourselves as permanently disadvantaged against an infinitely deceptive enemy. A worried mother is not just a worried mother; a crying child is not just a crying child. (And yet, there were moments in which we knew, reluctantly but clearly, that a child is just a child. How could we forget that? We were not monsters, at least not all the time, not when we remembered who we are.)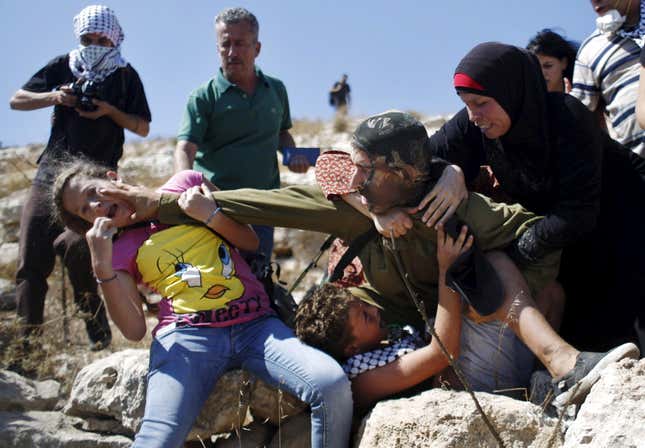 Military occupation is inherently volatile: No matter how much force is threatened, anyone with a choice can still act contrary to your orders. Such rule of force is driven by the occupier's fear of what the occupied might do next. Over time, the occupier's fear is bound to accumulate, because no amount of force can guarantee the compliance of the occupied. As a result, the occupier uses more force and the occupied has stronger reason to resist. And thus, the occupier's original fear is confirmed.
In some online version of the video, a warning precedes the footage: "Material contains distressing images." While it may be difficult to watch a young boy screaming in fear and pain, what seems most distressing about this video is what it could have shown instead. Severe blows could have been dealt, shots could have been fired, lives could have been lost. The horror of what might happen is far more disturbing to me than what in fact occurred. We are left with a series of images: the expression on the face of the screaming boy, the fear on the face of his mother sister and aunt, and also the baffled gaze of the soldier, looking around for his backup. "Amir! Amir! Get me someone! Get me a person over here!" the soldier cries. He must be thinking: "Who knows what might happen next?"
But this is the reality of occupied Palestine, where an armed Israeli soldier can be as terrified of a little boy as the boy is of him.