A whopping 87 out of 91 former NFL players who donated their brains to science have tested for positive for chronic traumatic encephalopathy (CTE), a degenerative brain disease that causes memory loss, dementia, and depression. The study, based on information from the largest brain bank in the United States, is the latest evidence of a link between football and brain damage in the ongoing debate about head injuries in the sport.
Researchers from the US Department of Veterans Affairs and Boston University found CTE in the brain tissue of 96% of NFL players, PBS Frontline reports. It's not just professional-level rigor that puts athletes at risk, however. Of the 74 brains of athletes who only played semi-professional, high school or college football, 58% tested positive for CTE. Past research on chronic head trauma in sports suggests that constant minor impact poses the greatest threat to players—and just not the occasional brain-rattling headbutt that results in a concussion.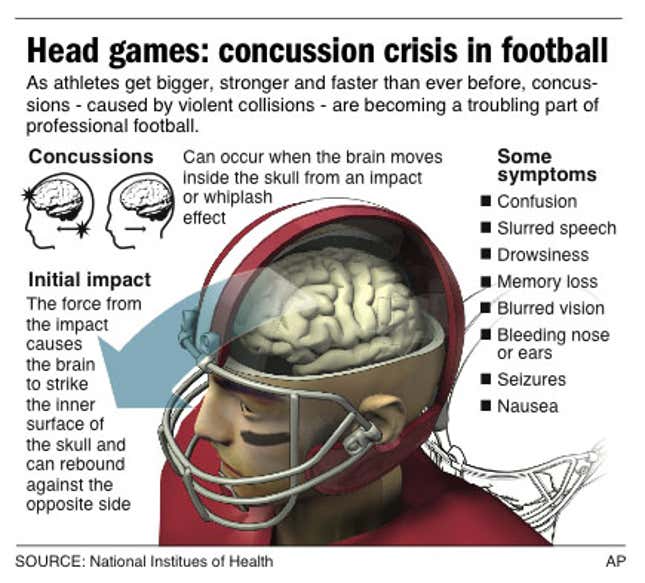 It is important to note that the results are somewhat biased. Scientists can only definitely diagnose CTE after death, meaning their samples had to be donated. According to Frontline, players who donated their brains already suspected they could have the brain disease. The researchers, however, say their findings are consistent with past research.
The NFL has for years vehemently denied a link between the sport and long-term brain disease. Earlier this year the league settled a $1 billion lawsuit with thousands of retired players, which accused the league of concealing evidence of the sport's inherent dangers. It ensures up to $5 million per former player suffering from the effects of concussions on the field.
However, the NFL has recently stepped up efforts to mitigate the effects of repeated head trauma. Concussions fell by more than one-third over the past two seasons, the league says, thanks to the league's rule changes, new sideline technology, and improved medical care. It also contributed $1 million to the brain bank that published this latest study.
As it happens, the announcement of the findings coincides with the release of "Concussion," a movie starring Will Smith that tells the story of the doctor who first exposed the link between football and CTE. The massive leak of emails from Sony Pictures Entertainment revealed that the production company altered the film's script in order to avoid antagonizing the NFL.