Malaysia's prime minister must be feeling the heat. Accused of pocketing nearly $700 million from a state development fund, Najib Razak now faces an investigation by the US Justice Department's Kleptocracy Asset Recovery Initiative, according to the New York Times. Besides the missing mega-millions, investigators will focus on properties in the US that were purchased in recent years by shell companies belonging to the prime minister's stepson, Riza Aziz, as well as other real estate connected to a businessman and close family friend, Jho Low.
The Times said its sources were "people knowledgeable about the case, who asked for anonymity because they were not authorized to discuss it." The US Federal Bureau of Investigation is also investigating the fund for money laundering, the Wall Street Journal reported Sept. 19.
Launched in 2010, the kleptocracy initiative (pdf) aims to crack down on corrupt foreign officials who steal money and use it to live the high life in the US. It has already produced significant results. In August 2014, the Department of Justice took control of more than $480 million in corruption proceeds hidden in bank accounts around the world by former Nigerian dictator Sani Abacha and his co-conspirators.
The initiative has also helped Taiwan and South Korea recover money and assets tied to former presidents of those nations.
Aziz and family friend Low have certainly been living the high life in the US. Low is known for throwing legendary parties attended by American celebrities like Paris Hilton. Aziz runs a Hollywood company, Red Granite Pictures, that produced the films Dumb and Dumber To and The Wolf of Wall Street. The fact that the latter film focuses on fraud and corruption might prove to be prophetic.
Aziz and Low's adventures have also included buying some dazzling US real estate. That includes impressive properties in Beverly Hills, Los Angeles, and elsewhere, but their New York properties are some of their most spectacular.
A $33.5 million condominium at The Park Laurel was owned by shell companies connected to Low's family before being transferred to shell companies tied to Aziz, according to the Times. Built in 2000, the 41-story building is directly across from Central Park on the Upper West Side, on 63rd Street. It has 24-hour concierge service, a health club, and a children's room. It's a short walk to Lincoln Center, and most units have sweeping views of the park.
A penthouse at the Time Warner Center at Columbus Circle in Manhattan was purchased for $30.5 million by a shell company connected to Low's family trust:
Also in Manhattan, a unit in the luxury One Madison condominium tower was purchased for $4.5 million last year by a shell company called Cricklewood One Madison, the Times reported. The authorized signer was Ai Swan Loo, according to public records. Malaysia's central bank announced this summer that a person named Jasmine Ai Swan Loo, a former executive involved with the 1MDB fund, was wanted for assistance in its investigation.
Located at at 23rd St. and Madison Ave., One Madison last year won an Architizer A+ Jury Award for the best residential high-rise.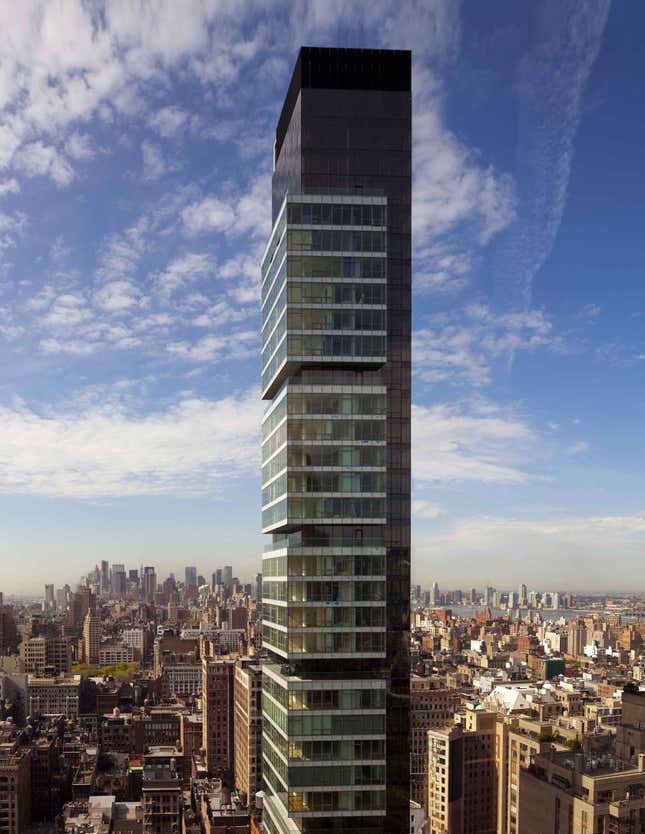 It features 360-degree views of the city was described by New York Times architecture critic Nicolai Ouroussoff as "a dazzling addition… It jolts the neighborhood into the present."