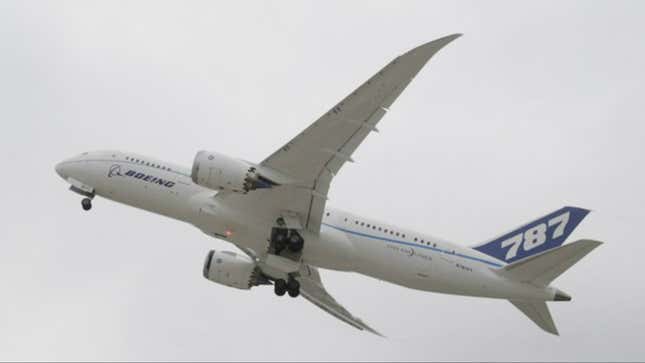 Boeing says it wants to conduct flights of the 787 Dreamliner in order to determine why fire and smoke broke out aboard two of the aircraft last month. While commercial airlines are starting to tally their losses resulting from the 787's grounding, the US Federal Aviation Administration is considering the Boeing request to conduct the flights with no passengers aboard.
The Wall Street Journal reports (paywall) that the proposed test flights are an attempt to recreate the conditions under which the burning occurred on Japanese airliners. If the malfunction can be replicated, Boeing would then try to figure out a fix, the newspaper said.
As of now, investigations in Japan and the US have produced no definitive reason for the incidents Jan. 7 aboard a Japan Airlines plane and on Jan. 16 on an All Nippon Airways aircraft. Since then, all 50 of the Dreamliners currently in service have been grounded. But the focus has been on the 787's lithium-ion batteries, which use a highly volatile chemistry called lithium-cobalt-oxide.
Japan Airlines said Feb. 4 that the grounding of the planes will have cost it $7.5 million by March. All Nippon and United Airlines have also suggested that they may seek compensation from Boeing.
On Jan. 30, Boeing executives told Wall Street analysts that they do not expect the problem to have a significant financial impact on the company.