As Chinese president Xi Jinping starts his visit to the United States today, the husband of American businesswoman Phan Phan-Gillis is going public with the news that his wife has been detained by Chinese authorities for the last six months for allegedly threatening Chinese national security.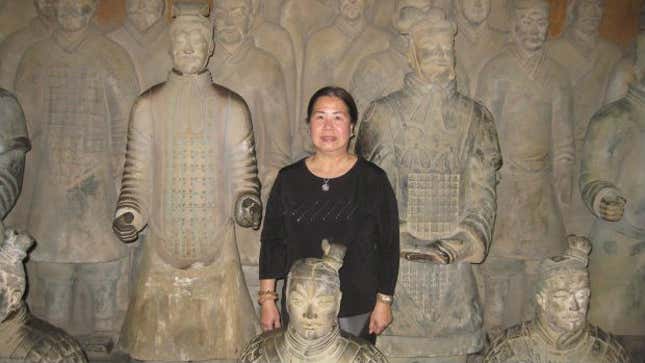 Jeff Gillis told the AP that he hopes telling her story will pressure Beijing to release her, and to encourage American officials to obtain her release. China's foreign ministry confirmed the reports that Phan-Gillis has been detained to the Associated Press.
The New York Times reported that Gillis only received word of his wife's official arrest on Sunday. Her lawyers in China were reportedly told that she "had been accused of stealing state secrets."
"It is the most stupid politics in the world to arrest a U.S. citizen the week that Xi Jinping is coming to the United States for a state visit on political charges of spying," Gillis told the Times. "I really don't want to be disruptive. I don't want to ruin anybody's party," he said. "I just want to get my wife back."
The Houston Chronicle reports that Phan-Gillis, who was born in Vietnam, is a naturalized American citizen of ethnic Chinese descent. She traveled to China earlier this year as part of a trade delegation, but was stopped by Chinese authorities on her way to Macau.
According to both US and Chinese state department officials, Phan-Gillis, who also goes by Sandy Phan-Gillis, has been able to meet with American authorities since her arrest on March 20. The US State Department said in a statement today that it is "closely monitoring the case."
A spokesperson from China's Foreign Ministry said Phan-Gillis is healthy and has been able to meet with American officials. He also said Beijing is proceeding with the case according to Chinese law.