Weak commodities prices dragged Indonesia's economic growth down to 6.2% in 2012, from 6.5% a year earlier. And the pace of expansion is not picking up: Fourth-quarter GDP came in at 6.1% higher than the final quarter of last year.
Some analysts have pinpointed the slowdown in China (paywall) as the main reason Indonesia's growth engine is stalling. But all of Indonesia's main Asian customers are buying fewer commodities. As this chart from research house GaveKal shows, Indonesia's exports to Japan and South Korea have declined in equal measure. And while Indonesia's overseas sales of manufactured goods are falling too, the export category showing the sharpest decline has been mining and resources. Indonesia produces a host of hard and soft commodities, including coal, palm oil and coffee.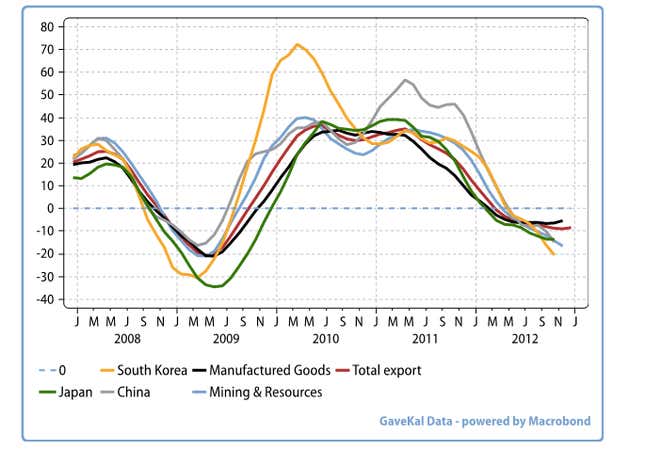 But falling exports are not such bad news in Indonesia, where almost 60% of GDP (2011 data) comes from domestic consumption. The comparable figure in China is just 34%. Despite rapidly rising incomes, Chinese households have continued to be notoriously thrifty, while Indonesians have eagerly embraced consumption and commonly borrow at high rates from banks to fund purchases of smartphones or motorbikes.
Meanwhile, Indonesia's large conglomerates, alongside foreign investors, are investing record amounts in the economy to build new factories, as this GaveKal chart shows: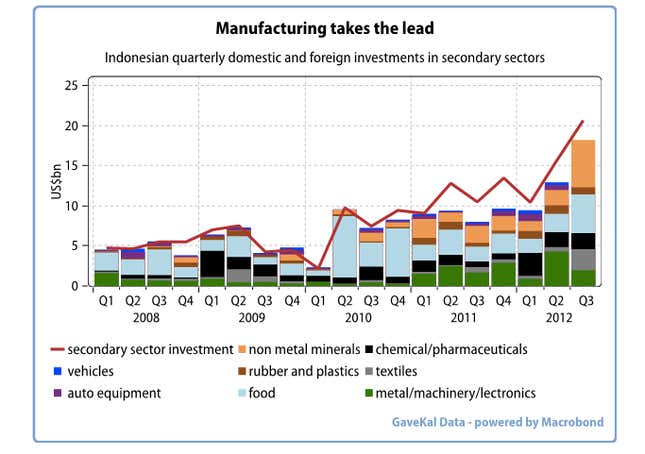 Due to its large, young population and low labor costs, Indonesia has major potential to draw business away from China, where wages are rising fast. The anticipated improvement in Indonesians' living standards is prompting domestic conglomerates such as giant developer Lippo Group to plow money into new shopping malls and housing estates. That investment is sorely needed and very welcome; many of the country's hastily thrown together cities are an ugly vision of scruffy roadside stalls selling instant noodles and low-rise shacks squatting together in slums overlooking garbage-strewn rivers.