It's been almost a year since Taylor Swift released 1989, and the album is still making magic happen.
First, some of the most popular musicians out there joined Swift on stage during her US summer tour, and her fans were graced with performances by artists including Justin Timberlake, Beck and St. Vincent (together), Uzo Aduba, John Legend, and introduced to actual legends, like Alanis Morrissette (and you're free to disagree, but you're wrong) and Joan Baez.
Then, on Sept. 21, Ryan Adams released a cover, not of one of her songs, but of the whole album—about which no one was more excited than Swift herself (and her cat):
Adams's version of hits, such as "Shake it Off" and "Bad Blood," have already amassed hundreds of thousands of plays on YouTube, and are on the way to quickly become his most-listened ever. This is his (rather amazing) version of "Blank Space":
Only a few hours after Adams' release, Father John Misty's Joshua Tillman released his own cover—of Adams's 1989 cover. He recorded "Blank Space," in the style of Velvet Underground:
The singer also reportedly covered Swift's "Welcome to New York," though both the track he originally shared on SoundCloud, and the tweet where he sarcastically announced it on Sept. 21 (as his "INTERPRETATION the classic Ryan Adams album "1989") have since been deleted (below, a screenshot from the cached web page).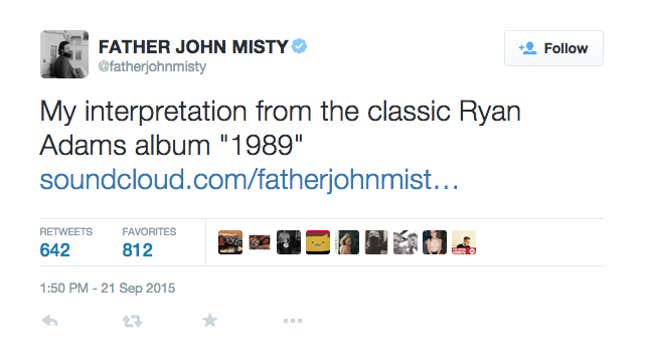 Maybe Tillman realized that his attempt at trolling ended up elevating the game of 1989 covers to a whole new, impossibly meta, level: a cover of a cover in the style of classic band, where can it even go from there?
Perhaps, Radiohead should give it a go.