If "socialist garage doors" don't sound captivating to you, prepare for a surprise.
Lithuanian photographer Agne Gintalaite's series, Beauty Remains reveals dozens of garage doors found on the outskirt of Vilnius, and it is a bright, surprising collection of hues—168 of them.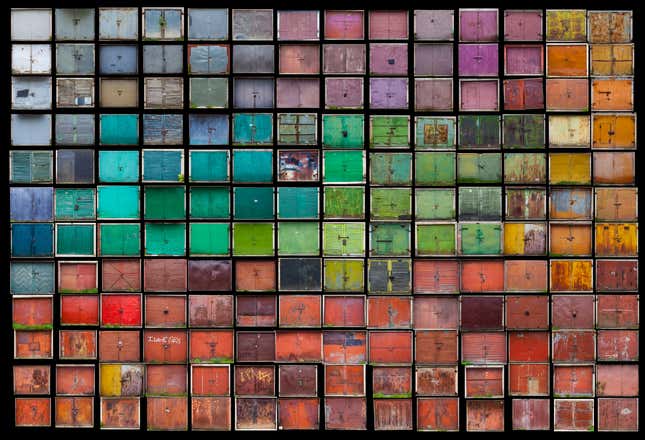 Gintalaite, a fashion photographer, told Quartz that she has always had a fascination with "garage towns," large areas where urban dwellers park their cars, usually far from town. The photographer calls the garages "a peculiar phenomenon of late socialism," and says when her car broke down among them on day, she decided to accept "their challenge."
What followed was a one-day project to document the colors that had survived decades and deep political changes.
"The idea to compose a mosaic came almost immediately," Gintalaite told Quartz. "When I began to assemble it, I was totally carried away. It was like meditation, so absorbing. I began making the mosaic in the evening, and before I was aware of it, there was already a dawn breaking."
The resulting images combine a mesmerizing synthesis of color and texture with subtle commentary on the passing of time in Lithuania. But as the same chain stores descend here as everywhere, warns Gintalaite, these bright spots of individuality are destined to disappear.