It's no secret the tech industry has a hand in propping up San Francisco's crazy-high rents. But rental-listing company Zumper recently crunched the numbers to try to show just how much venture capital can be blamed for those increases. (Thanks, Marc.)
In 2014, the average one-bedroom apartment in San Francisco went for $3,252 a month, making it the most expensive rental market in the country, according to the firm's data. San Francisco, unsurprisingly, also got the lion's share (32%) of venture dollars last year. And as Zumper's housing economist, Andrew Duboff, notes, it's no coincidence the most expensive cities to rent in the US are also home to startups that collectively raised the most money.
There's an obvious correlation, but after Duboff controlled for external factors—such as employment, population, vacancy rates, and rent control policies, to name a few (more on the methodology here)—he was able to zero in on venture capital's impact. For every $1 billion in VC money, rents increased by $69 a month for one-bedroom apartments and $99 for two-bedroom units.
That might seem negligible, but for a market like San Francisco, which saw $15.47 billion of venture capital pour into the city last year, that translates to $1,069 each month. Put another way: Zumper's analysis suggests a third of San Francisco's inflated rent prices can be attributed to VC investments. That's the most extreme example. For San Jose, which trails San Francisco in VC dollars ($6.88 billion), the amount is $476, or a quarter of rents. However, in notoriously expensive New York City, VC was responsible for only 10%, or $292, of rents, according to the analysis.
It's interesting to note that VC only contributes to 5% of rents in Oakland, according to Zumper. But with Uber expected to move there in two years—having recently snagged 330,000 square feet of the historic Sears building downtown—it's all but certain Oakland rents will be on an upward trajectory as well.
The chart below illustrates the relationship between the portion of rent attributed to venture capital and the amount of funding raised.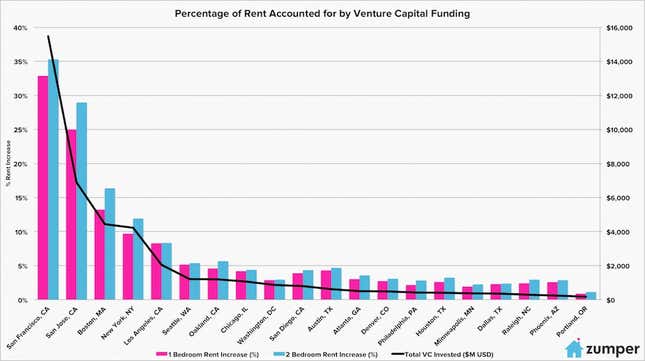 Though the investments mean higher salaries for tech workers and a stronger local economy, not everyone can afford the VC premium—leading some to deal with the high rents by sleeping in their cars.