More and more US businesses are offering to cover the cost of sex reassignment and hormone therapy for transgender employees—a gesture that's relatively cheap for employers because few people use it, and goes a long way to show a commitment to diversity. And soon, it may become illegal for employers's health plans not to offer it.
More than 415 companies out of the 780 surveyed in a March study by the advocacy group the Human Rights Campaign offer benefits that cater to transgender employees, covering procedures such as gender reassignment surgery and hormone therapy. That's up from 49 businesses in 2009. And the Human Rights Campaign expects that number to continue rising.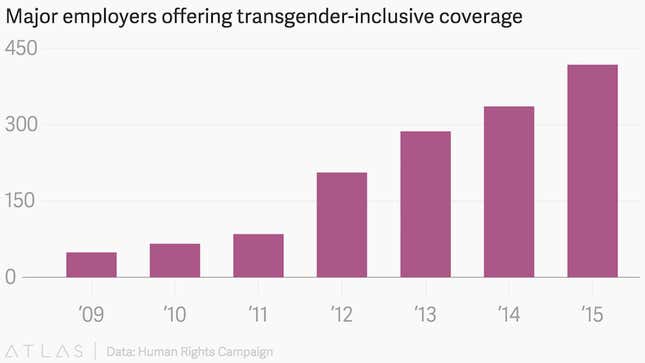 Technology companies including Facebook, Netflix, and Tesla are among the latest to offer these benefits, according to their responses to the HRC's survey. They join corporate behemoths such as Coca-Cola and Time Warner Cable, which have offered transgender-specific benefits for years. Facebook and Tesla did not respond to requests for confirmation on their benefit offerings.
The Department of Health and Human Services is working to extend protections in the Affordable Care Act that bar health coverage discrimination based on sex. A proposed new rule would remove exclusions in insurance policies for all care related to gender transition. Federal employee health plans are already required to cover transition-related health care.
Some advocates say this effort is long overdue. "We think these exclusions that have been in place forever are illegal," said Mara Keisling, executive director of the National Center for Transgender Equality, adding that she's happy to see more businesses offer health care for employees transitioning into another gender. "Anybody who's not doing it now is just procrastinating and hoping nobody sues them."
And they argue that adding the benefit is a win-win for employers. Because the benefit is rarely used, companies aren't making a big financial leap by adding it to their offerings. And it helps attract top transgender employees.
"In competing for the very best talent, a company wouldn't want to lose a star performer who happens to be transgender over what is a very low-cost benefit," explained Beck Bailey, of the Human Rights Campaign Foundation's workplace equality program, in an email.
Among the companies that the HRC surveyed, law, finance, and tech appeared to be the sectors that have taken most enthusiastically to this logic.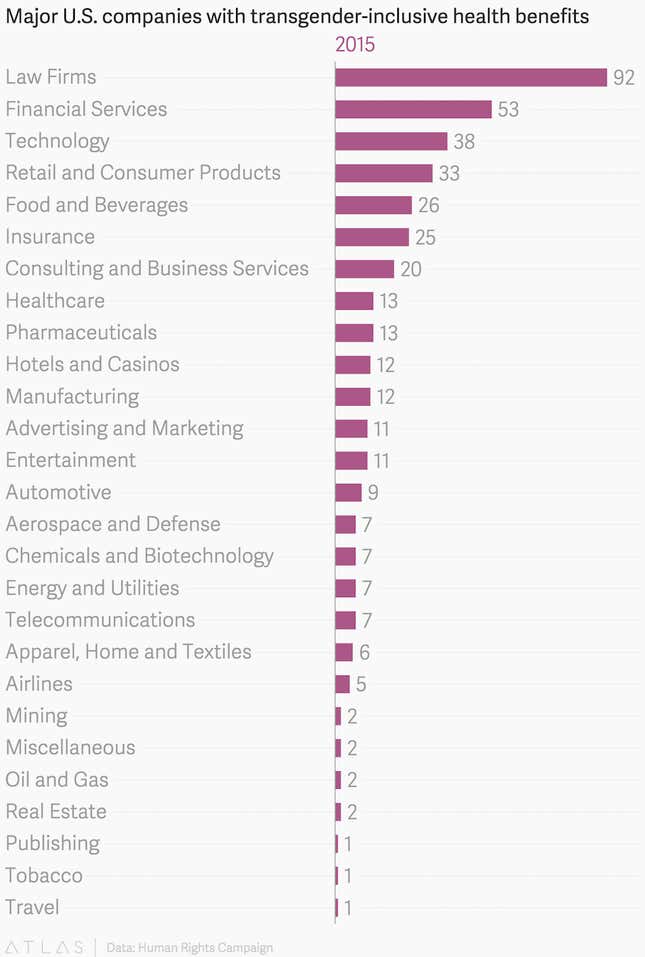 Offering these health benefits doesn't change what many advocates consider the biggest underlying injustice for LGBT employees in some parts of the country—the lack of protection against workplace discrimination.
"In the U.S., an LGBT employee can get married on Saturday in all 50 states, but fired on Monday in 28 states for being gay or lesbian and in 31 for being transgender," said Selisse Berry, founder and CEO of Out & Equal Workplace Advocates, in an email. "We applaud major companies like Netflix for illuminating the need for LGBT-inclusive workplace policies. We are eager to see all companies follow this inclusive example… so that LGBT-inclusive policies become workplace pillars rather than perks."