McDonald's is rolling out its first organic hamburger, called the "McB," starting in October.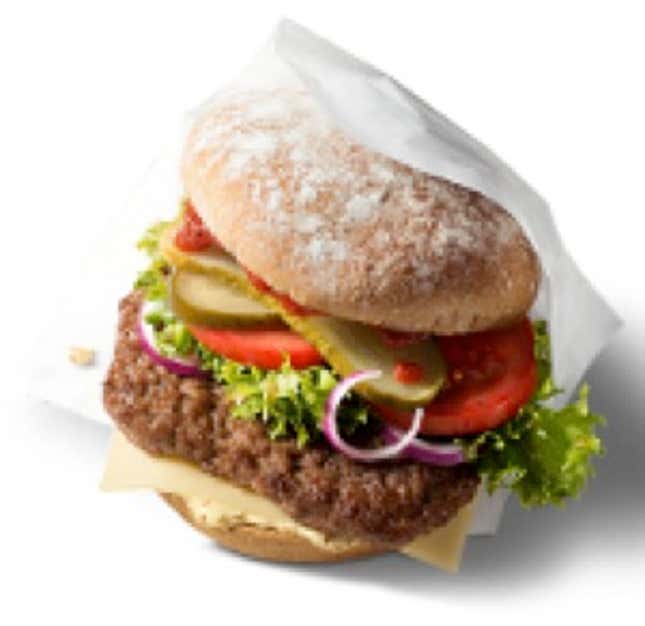 The burger, sourced from organic farms in Germany and Austria, will be available in select restaurants in Germany from Oct. 1 to Nov. 18.
Besides the organic beef, the burger—which come in two versions—is also accompanied by fancy fixings like Edam cheese, Lollo Bionda lettuce, and sunflower-seed buns.
The move, which could be a testing ground for a more permanent menu add, underscores a turnaround unfolding at the hamburger chain, traditionally a global purveyor of greasy burgers and fries that spawned the 2004 hit "Supersize Me," in which director Morgan Spurlock spends a month eating solely McDonald's food.
Over the years, fast food alternatives like Chipotle and Noodle's & Co. have surged in popularity, claiming to be fresher, healthier choices. Millennials, in particular, have defected.
In response, McDonald's has been trying out various ways to appear more health-conscious and environmentally friendly.  Its menu now includes salads, wraps, and an option to add apples to its popular children's Happy Meal. This January, it pledged to transition to so-called "sustainable" beef by 2016.
The results of these efforts have been mixed. McDonald's faces declining sales, as well as ongoing criticism over its sustainability claims.
The idea of organic beef sure does sound nice: According to McDonald's, the new burgers will be made from beef that's free of antibiotics, synthetic chemical fertilizers, and pesticides and sourced from cows that run free in green pastures and eat only organically-grown, GMO-free feed. (There's even a video—in German).
The larger question, of course, remains: What's in the rest of its burgers?