The streaming video service Netflix unveiled its latest invention this weekend—a single button that, when pressed, will dim the lights, activate your phone's "do not disturb" mode, order take out, and queue up Netflix for an evening of binge-watching. The button, dubbed "The Switch," makes it easier than ever to "Netflix and chill" and already has become known by that term (internet slang for hooking up in front of the TV). 
In a nod to techy do-it-yourself culture, Netflix released step-by-step instructions on its website so people can create and customize their very own switches, linked to apps and connected devices.
The company debuted the branded do-it-yourself tool at the 2015 World Maker Faire in New York this weekend, and is currently accepting submissions for future projects through its "Make It" microsite.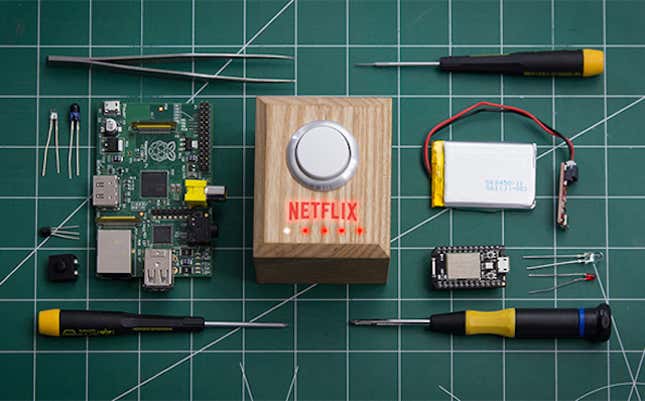 While the idea is simple—a button that connects to the internet—you need basic programming skills and a working knowledge of applications programming interfaces (APIs) and web servers in order to connect the switch to apps such as the food delivery service Seamless, and to your mobile phone or other programmable devices.
The Switch, powered by a Particle Core Arduino-compatible WiFi-enabled development kit, also has a battery, LED lights, and an infrared transmitter that mimics the signal that turns on Netflix-compatible TVs.  For the full effect, you'll also need a smart lighting system and other equipment, which is listed on Netflix's website along with the source code.
Perhaps the next innovation from Netflix will be to queue up episodes of Unbreakable Kimmy Schmidt when you're having particularly a rough day.