ArcelorMittal, the world's largest steel maker, reported a net loss of $3.7 billion last year, according to company earnings posted today. That's a huge drop from a profit of $2.3 billion in 2011.
ArcelorMittal has been affected by a global slowdown in the steel industry, driven in part by lower demand in China, the world's largest steel consumer. The Luxemburg-based company has no operations in China but sells steel to the country.
The biggest hit for Arcelor last year was Europe and that's not likely to improve that much this year. The company attributed its loss to $3.4 billion in writedowns on European its assets. "2012 was a very difficult year for the steel industry, particularly in Europe where demand for steel fell a further 8.8%," said chief executive Lakshimi Mittal in a statement.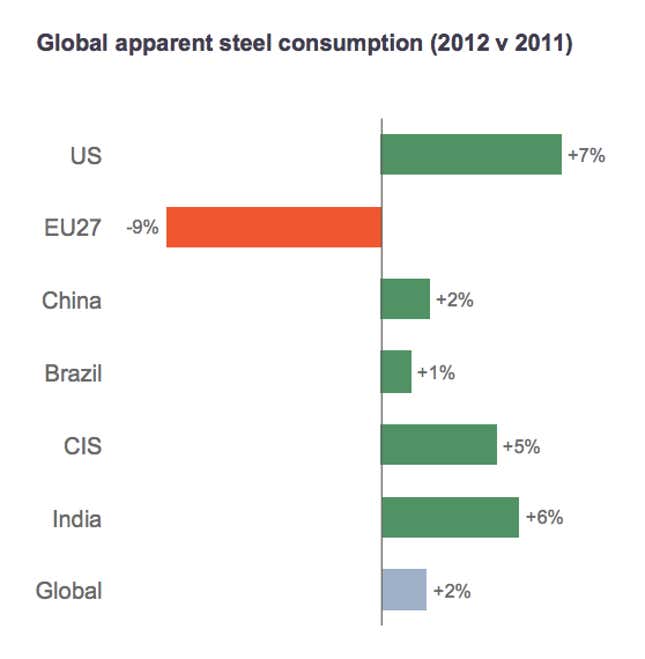 Steel industry body Eurofer said yesterday it expected European steel demand to "remain stuck in reverse gear," falling further this year before rebounding in 2014, the result of as government austerity measures and lower consumption.
Still, ArcelorMittal predicts that its steel sales will grow 2%-3% this year, driven by Chinese and Brazilian consumption. The company predicts Chinese and Brazilian demand will grow 3% and 5%, respectively. Investors, who already expected poor earnings from the steel maker, appear to have taken that bit of good news to heart. ArcelorMittal's shares were up 2.5% higher by 7:30 am EST.