As the weather turns chillier in the US, many people's thoughts turn to pumpkin flavoring, fall foliage, sweaters, and coats—and duck boots.
L.L. Bean's "Bean Boot"—the product that launched the company back in 1912—is the gold standard for duck boots. A Frankenstein's monster of footwear, with a leather upper stitched to an incongruous rubberized bottom, it began life as a utility product for hunters, morphed into a prep necessity, and has now become a symbol of heritage Americana—with the added bonus of being functional.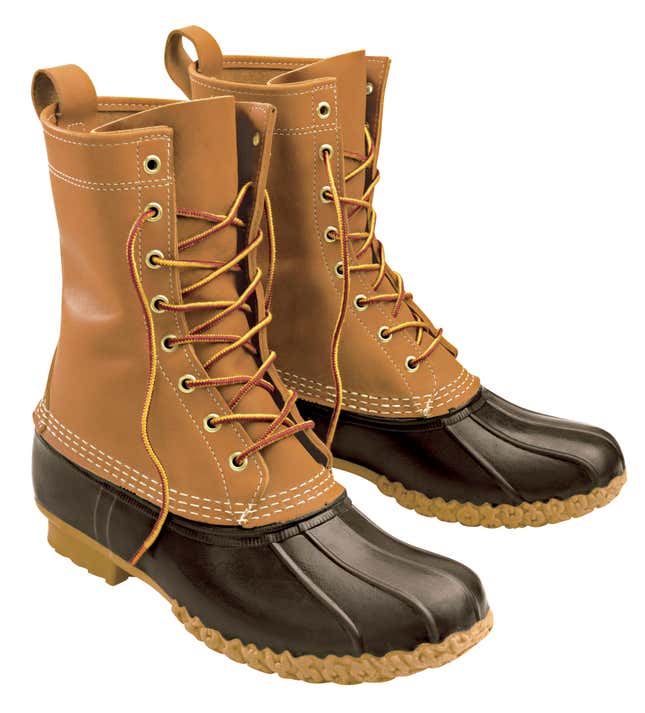 The boots, whose rustic, ungainly looks are repellant to some but endear them to many, are such a staple of fall dressing that last year L.L. Bean found itself with a wait list of 100,000 people anxiously clamoring for them. That was in December. This year, it's just September, and as Bloomberg reported, the company is already back ordered on certain styles, even though it tried to prepare for higher demand this year.
It expects to sell about 500,000 pairs of duck boots this year, compared to 450,000 last year—and just 150,000 a few years earlier. To keep up, L.L. Bean has invested $1 million in a second molding-injection machine to create the boots' rubber bottoms, added another shift to the manufacturing schedule, and hired 100 new workers to stitch boots. (It's a slow process getting new hires up-to-speed, though; it takes trainees 26 weeks to perfect the boots' stitching.) Apparently the preparations haven't been enough.
Though they were created for outdoorsy types tramping through foul conditions—the original name was "Maine Hunting Shoes"—they eventually became a fixture of the East Coast prep wardrobe. In the 1980s, The Official Preppy Handbook called them the second-most important footwear choice in the preppy male's wardrobe, behind Bass' Weejuns loafers.
But the appeal of duck boots, both L.L. Bean's and those of many other imitators, has grown beyond those borders. Kanye West recently included duck boots as part of the footwear collection he designed for his line with Adidas. High-end versions run more than $500 per pair.
The L.L. Bean boot is still one of the most sought after, though.
"The past few years, we've noticed a huge surge in popularity of the boots amongst high-school and college students, folks living in urban environments, and they've garnered favor with the fashion community as well," a spokesperson for L.L. Bean told Quartz. "They have this wonderful rich history and heritage, they are still hand sewn right here in Maine, as they always have been, they're tougher than a tire, and will last a long time."
To non-Americans, the attraction can at first be mysterious. Nina Garcia, the creative director of Marie Claire and judge on Project Runway, who is Colombian, described her arrival as a teenager at a boarding school in Massachusetts, wearing a skirt and heels. "I was not going to be intimidated, especially by girls who wore L.L. Bean duck boots," she wrote in the preface to her 2007 book, The Little Black Book of Style. She gradually warmed to the boots, and to other American classics.
Those outside the US, who have no cultural ties to the boot's heritage, could still be smirking—but they're not. "We sell our boots globally," L.L. Bean's spokesperson said. "In Japan especially, our boots are very popular."