This post has been updated with a comment from Twitter.
Twitter is gunning to become the place for politicians to connect with voters. The social network has added tools to make it easier to accept donations through a tweet and poll the public on issues ahead of the 2016 US presidential election. But the craziest resource for elected officials is Twitter's ridiculous 136-page handbook (pdf) on what and what not to tweet.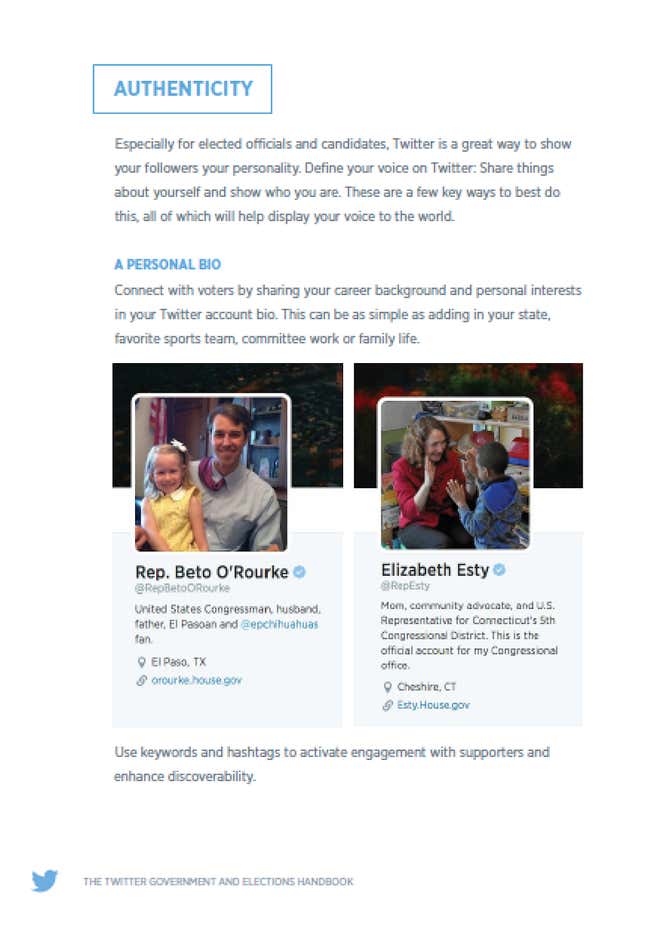 The guidebook—released last year—covers the basics of Twitter, like how to set up a profile, craft a 140-character tweet, and use hashtags, and it frequently advises politicians to be themselves and show "authenticity" and personality. It also walks elected officials through live-tweeting during interviews, events and rallies.
Gems include a chart on the anatomy of a tweet and examples on how to tweet about TV shows such as House of Cards, and talk to professional athletes.
Do government officials really need this much help to talk to the public? The answer is yes, yes they do.
Let's recall "Weinergate," for a moment: The 2011 scandal in which former US Congressman Anthony Weiner used his public Twitter account to send a rather specific picture of his clothed anatomy to a college student. And Weiner has yet to figure out how to use the platform, Politico reported.
Unfortunately, Twitter's handbook won't protect the public from future sexting scandals. Nowhere in the manual's glossy pages does it say not to share nude or sexually suggestive photos or comments, so let's hope politicians have gotten that message by now.
It does, however, tell elected officials how to delete a tweet when they inevitably screw up, which happens so often that sites devoted to saving politicians' deleted tweets have sprouted—and been shut down—around the world.
The guide has been "wildly popular" since it was released last year, Bridget Coyne, a manager on Twitter's Government and Elections Partnership Team, told NPR. It wasn't designed to censor elected officials or keep them from making fools of themselves, she said; it was written to help them make the best use of the platform. 
Update 1:20 pm: It also caters specifically to American governments, but Twitter is open to making guides for other nations. "Globally there's interest in using Twitter really effectively because elected officials and governments and campaigns all understand that they need to leverage Twitter to reach voters," said Nicholas Pacilio, a spokesperson for Twitter.
The current edition was written about year and a half ago, Pacilio said, before Twitter acquired Periscope and partnered with Square on the fundraising platform. Consequently, those features are missing from the handbook, but Twitter's government outreach team is working directly with officials on those tools.
So far, Periscope in particular has proved useful in the US presidential race. Republican hopeful Carly Fiorina, for example, livestreamed a question-and-answer session as part of her bid for the White House, while Donald Trump broadcasted the news that he was joining the presidential race on Periscope.