Less than six months after its first units shipped to Iraq and Ethiopia, a Swedish company producing modular, flat-packed refugee shelters is struggling to keep up with demand. And many of those orders are now coming from Europe.
Ikea-backed Better Shelter has shipped more than 500 shelters to transit camps in Greece. Another 96 have gone to Macedonia, near its border with Serbia.
The company receives daily requests from aid organizations wishing to purchase the 188-square foot shelters, which house up to five people and start at $1,150. The structures promise "a more dignified home for displaced people and a more cost-effective solution for humanitarian organizations, the company says.
Each shelter takes between four and eight hours to assemble, and includes solar panels that can power LED lights or charge mobile phones. They are built to last for three years. Components are manufactured in northern Europe and China, and flat-packed in Gdansk, Poland.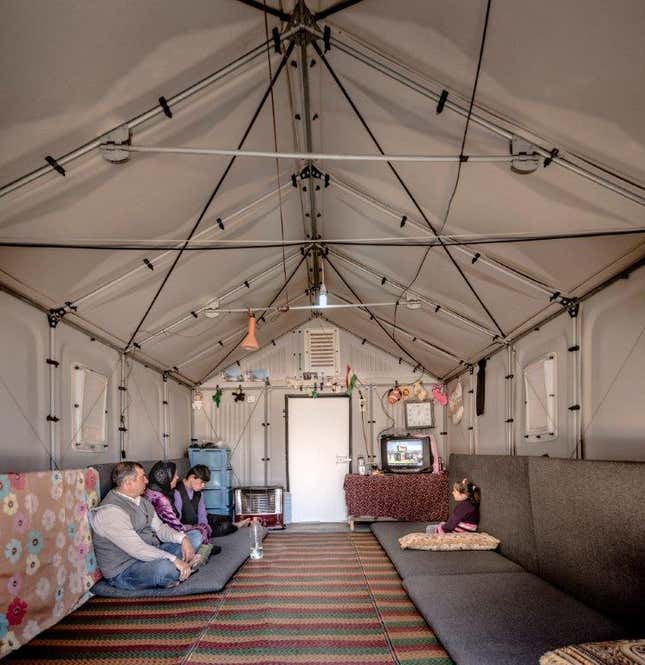 With a maximum production capacity of 2,500 units per month, the current demand far outstrips supply.
"We are producing at full capacity but we just cannot produce enough at the moment, which is frustrating," Märta Terne, a Better Shelter spokeswoman, told Quartz.
The company did not anticipate these numbers when it launched in March, Terne said. "From my personal perspective, it seems as if some of the humanitarian and government organizations didn't expect the numbers in Europe either," she added.
A record half a million refugees have entered Europe this year, according to the International Organization for Migration. Many find themselves corralled in temporary transit camps that have popped up in places where migrants must wait before crossing an international border.
Conditions in these camps can be bleak. In Lesbos, Greece, where the UN's refugee agency has installed Better Shelter units, a camp built for 500 holds some 5,000 people. In Hungary, human rights organizations have accused the authorities of treating refugees "like animals" in open-air pens ringed by metal fences.
"I've been working for the [International Rescue Committee] for five years and I never thought I'd be working in a refugee camp in Europe," an aid worker in Greece told the International Business Times.
Better Shelter launched in March as a partnership between a Swedish design firm, the Ikea Foundation and the UN. The modular shelters are intended to provide safer, more durable, cost-effective shelters suitable for a range of climates and conditions. The company operates as a social enterprise, with profits reinvested in the company or donated to the Ikea-backed foundation that owns it.