LinkedIn sends its users a lot of emails. An email it sent out Friday afternoon (Oct. 2) to US users, however, might be one actually worth opening. The company sent out a message detailing that it had agreed to pay $13 million in compensation to LinkedIn members who felt that too many emails had been sent out on their behalf by the company.
One of the ways to add connections on the business-minded social network is to sync up your email address book with LinkedIn, see who's on the site, and click to add them. LinkedIn calls this feature, "Add Connections." LinkedIn then sends that person an email saying that you want to connect. If that person doesn't respond, it sends another email. And then another. A class action suit was brought against the company in California, claiming that LinkedIn members had agreed to let the site download its contacts, and send an email on their behalf, but not the two follow-up emails. That small amount of annoying persistence was enough to warrant a lawsuit.
If you were signed up for LinkedIn between Sept. 17, 2011 and Oct. 31, 2014 and used the "Add Connections" feature, you might want to go back and respond to LinkedIn's email. If you didn't get an email—or perhaps deleted what may have seemed like yet another spam email—the law firm behind the settlement set up a website where you can submit a claim. LinkedIn agreed to pay out $13 million—as well as up to $3.25 million in legal fees—and if enough users submit claims, the company will add another $750,000 to the claims pot.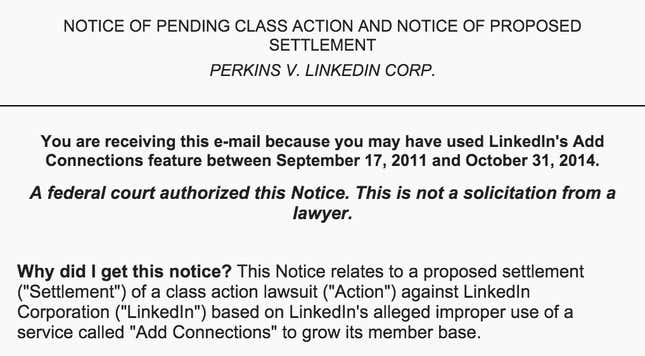 Given LinkedIn sends an enormous amount of emails out, it probably knows when the most and least effective times to contact someone are—which is why it's amusing that the settlement email was sent out late on a Friday, a time of the week when companies traditionally try to bury bad news hoping people won't notice. (We reached out to LinkedIn for comment this weekend, but haven't heard back.)
If you ignored the message, but think you're entitled to a part of the settlement funds, here's how to get your share:
Go to the settlement website, read the brief and maybe some of the FAQs to figure out if you're entitled to compensation.
Click the "File Claim" button.
Go back to the email you were sent, and copy the claim ID number from the top of the email. Paste it in and log in.
Fill in your information, read the terms and conditions (like: if you didn't actually use this feature, submitting a claim would be perjury), and choose how you'd liked to be paid.
Wait. The submission site is open until Dec. 14, and the court still needs to give final approval of the settlement. LinkedIn could also appeal the ruling, which would delay payment further.
It will be interesting to see what happens if users ignore this settlement notice: Will LinkedIn send out a follow-up email?