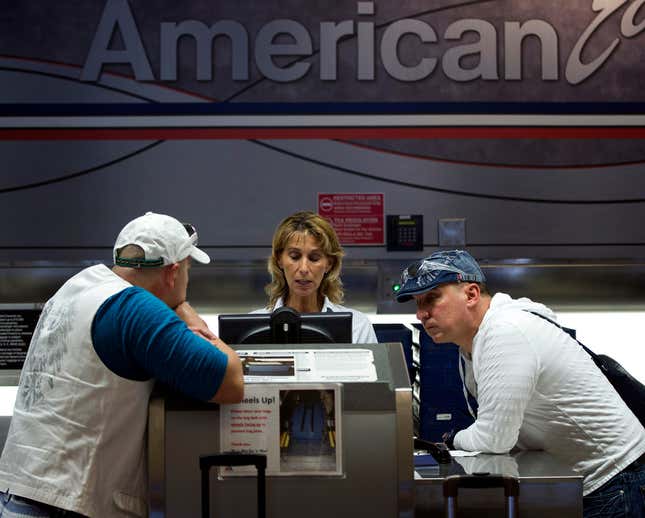 It was the deal that everyone expected: Bankrupt American Airlines will merge with US Airways, uniting the fourth and fifth largest airlines in the US and creating the world's largest airline; their combined passenger traffic last year was some 170 million people.
That's more people in the air in a single year than the entire population of Nigeria.
According to the Wall Street Journal, the merger being finalized with support from American's lenders will create a $10 billion company led by US Airways CEO Doug Parker, if approved by a bankruptcy judge and anti-trust regulators. Other details remain to be sorted out, including the role of American's CEO, Tom Horton—who was Parker's cubicle-mate when the two were colleagues at American earlier in their careers.
US Airways has been wooing American since Nov. 2011, when American became the last of the United States' big four airlines to enter bankruptcy due to the challenges of aging technology, growing pension obligations and competition. Two of those airlines have merged with smaller rivals; two years ago, United and Continental combined in a merger that is still rough around the edges, while the Southwest-AirTran merger in 2009 has been smoother sailing.
Though unions representing American's workers have supported a merger, the airline's management had been resisting a deal, perhaps because of the long history of airline CEOs striking it rich by shepherding their companies through Chapter 11 bankruptcy proceedings.
Analysts say this consolidation will be a good thing for an industry that has struggled for profitability amid price-cutting competition. Now, with fewer players, fares are going up. It's good news for airline investors, bad for airline passengers, but the silver lining is that with less competition on the price front, airlines will have a greater incentive to invest in customer service and a more pleasant flight experience.
The new company would supplant United as the world's largest airline; outside of the United States, the only airline within striking distance is fast-growing Emirates, which was forecast to be the world's second-largest carrier before news of the American-US Airways tie-up.