Humans are quite feeble. We break easily, and just about every part of us deteriorates as we age. But the Pentagon's research division, the Defense Advanced Research Projects Agency (DARPA), hopes to fix that. Today (Oct. 5), the agency said it had selected seven research facilities—including MIT, Columbia University and Johns Hopkins University—to study how to make the human body heal itself using nerve stimulation.
The $80 million research project, called ElectRx, was first announced by President Obama in 2014, and aims to figure out how to monitor and treat the human body with its own nervous system. "The peripheral nervous system is the body's information superhighway, communicating a vast array of sensory and motor signals that monitor our health status and effect changes in brain and organ functions to keep us healthy," Doug Weber, the project's program manager said in a release. "We envision technology that can detect the onset of disease and react automatically to restore health by stimulating peripheral nerves to modulate functions in the brain, spinal cord and internal organs."
(It's a a bit like a certain mutton-chopped Canadian mutant.)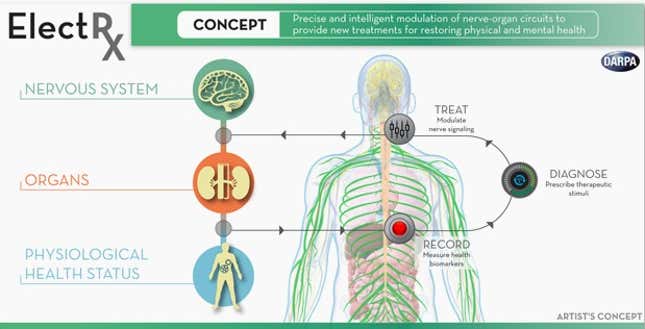 The first phase of the project will involve mapping the body's neural circuits to figure out how "minimally invasive neural and bio-interface technologies" could be used to target issues in the body and act on them—perhaps by using nanotechnology. The agency compared the end goal to a pacemaker, but for other organs instead of the heart.
DARPA is focusing on inflammatory diseases, such as rheumatoid arthritis and other forms of chronic pain, and post-traumatic stress disorder that soldiers often face. According to the agency, there's evidence that depression, PTSD and other mental health issues may well be linked to "excess levels of inflammatory biomolecules" in the body, and a successful project would create a system that would remotely send signals to stop inflammation in a region of the body.
The veteran care system in the US is severely backlogged—though the government is working on fixing that—so DARPA's research could lessen the burden. The agency has not provided details on when this technology could be available, but perhaps in the future, we'll be able to press a button to  treat our bodies. That's almost as astounding as mind-controlled robot arms.