Update (Feb. 8, 11.18am EST): EU leaders have agreed on a budget for 2014-2020. Details of the deal have not yet been released, but European Council President Herman van Rompuy, said they were "worth waiting for".
Original story (Feb. 8, 8.47am EST)
For the first time in European Union history, the bloc's leaders are about to agree to cut their annual spending. Officials have reportedly agreed on the headline figure: €960 billion budgeted for agriculture, aid and scientific research between 2014 and 2020.
After 15 hours of talks through yesterday night and early this morning, EU officials are meeting again this afternoon in Brussels to finalize a proposal for the seven-year budget to be sent to the European Parliament. Among the tensions at play: Britain, the Netherlands and other northern European countries want a tighter budget while states in the south and east are pressing for aid, farming subsidies and money for needed infrastructure.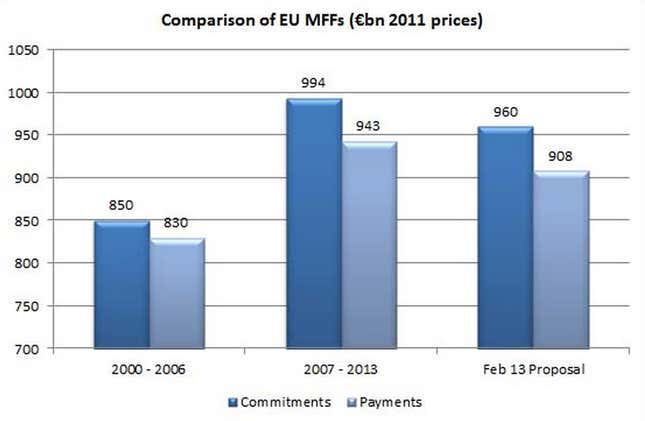 What exactly does the EU budget get spent on? This official video names things like research, transportation, modernizing agriculture as well as "peace and solidarity in Europe." (It also stresses that the budget accounts for about 1% of the EU's overall GDP.)
Indeed, agriculture makes up a big chunk of EU spending. The EU's Common Agricultural Policy (CAP) to help EU farmers is one of the most argued-over policies in the trade club and also one of the most expensive. The program, which has included subsidies for exports and taxes on imports, accounts for about a third of the current budget. Rural development and aid to poorer regions also accounts for a lot of spending. This chart from the think tank Open Europe shows the breakdown of the latest proposal (which you can thumb through yourself here).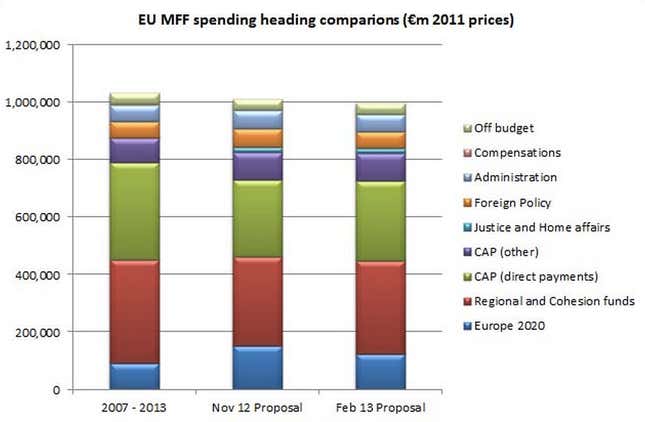 One casualty of the latest budget talks is likely to be Europe 2020, whose proposed allocation has dropped from a budget proposed in November. That's the EU's 10-year initiative to boost growth via things investing in R&D, improving energy efficiency and lowering unemployment. Compared to the current budget period, the bloc would spend slightly less on regional and cohesion funds, financial support to poorer member states. For a breakdown of what each country contributed to the budget in 2012 see here.