The manager at the hotel in Phnom Penh was deeply apologetic that October day. Norodom Sihanouk, the former Cambodian king had died about a week back, and though the Killing Fields were open—as was S-21, the school the Khmer Rouge turned into a terrifying detention center in 1975—the royal palace was out of bounds for ordinary visitors like me.
Death, it turns out, can get in the way of tourism even though, aside from the great temples of Angkor Wat, tourism in Cambodia is usually all about death.
Last week on Feb. 4, more than three months after my trip, Sihanouk was finally cremated in a grand ceremony before thousands of mourners and international dignitaries. The gold and marble urns bearing his ashes returned to the palace three days later where they could become another draw for visitors, though a less grisly one than the usual stops on Phnom Penh's death tourism circuit.
S-21 or Tuol Sleng, the high school turned death camp, surrounded by nondescript houses, still has blood stains on the walls and rusty shackles on bed frames to remind hushed visitors that thousands were imprisoned there and only a handful survived. The Killing Fields, by contrast, are tranquil and green with chirping birds and playing puppies and little visible sign of the 17,000 or more bludgeoned and hacked to death there—until you encounter the pyramid of thousands of skulls.
According to Buddhist tradition, they should have been cremated but the government piled them in a tower instead. That broke the karmic cycle, but the government needed incontrovertible evidence of the evils of Pol Pot and his murderous cohorts. Also it makes for an arresting photograph for foreign tourists.
"S-21 and the Killing Fields are meant to be sites to attract tourists and foreign officials, and show how Cambodia is in the process of acknowledging its past history. It's a tool to calm or convince western officials that there is a process going on," says Brigitte Sion, editor of the book Death Tourism: Disaster Sites as Recreational Landscape. The Cambodians themselves memorialize their dead in remote villages and unidentified stupas, far from the tourist track. "There is a big gap between these large and troublesome memorials and the modest ones that exist in villages," Sion says.
Cambodians were not even allowed into Tuol Sleng initially. It was only open to foreign visitors like Gaby and her friend Olivia, both tourists from England whom I encountered in one of the classrooms. They say they felt a little squeamish posing for photographs in front of skulls and bones. "I don't know if it should be a tourist place," says Gaby. "But I guess it's a warning of what could happen." "It feels like you could cry any moment. It's so overwhelming," says Olivia.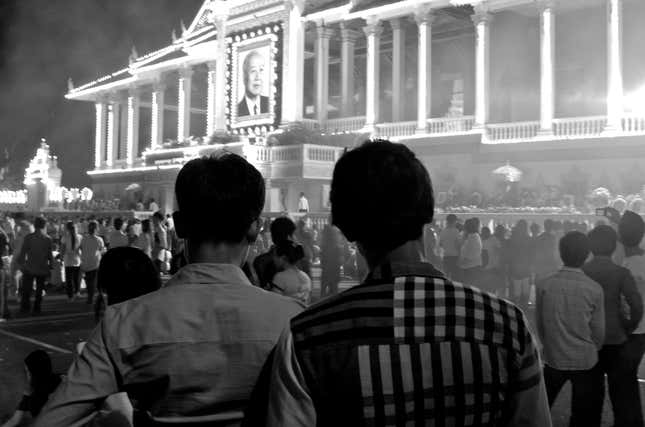 The Cambodians are more matter-of-fact. It's a poor country and they realize that as survivors, they have a new role in it—as tour guides. Bou Meng, one of the handful who made it through S-21, is now one of its tourist attractions. His wife died there but he survived because he could paint. Pol Pot wanted him to paint his portraits. Now he sells his memoir for $10, poses for pictures and cheerily interrupts his lunch of rice and grilled fish to introduce me to the woman he calls "Wife Number 2."
Sion says unlike Juedo-Christian societies, say Germany after the Holocaust or Argentina after the Dirty Wars, Cambodians are not as fixated on guilt and forgiveness. "A lot of survivors … feel justice will take place through karma, not judgments, trials and compensation," she says. They also know that many of their current leaders are former Khmer Rouge officials who want to keep the circle of blame tightly confined to Pol Pot and his immediate clique.
In those circumstances, making death part of commerce is one way of moving on. After Sihanouk died, the signs of mourning were everywhere from pins on the lapels of ordinary Cambodians to great public masses outside the royal palace at night. The plaza was awash in greenish lotus buds and white chrysanthemums. The rumbling chants of monks rose into the night sky along with the smoke from thousands of incense sticks that made my eyes water.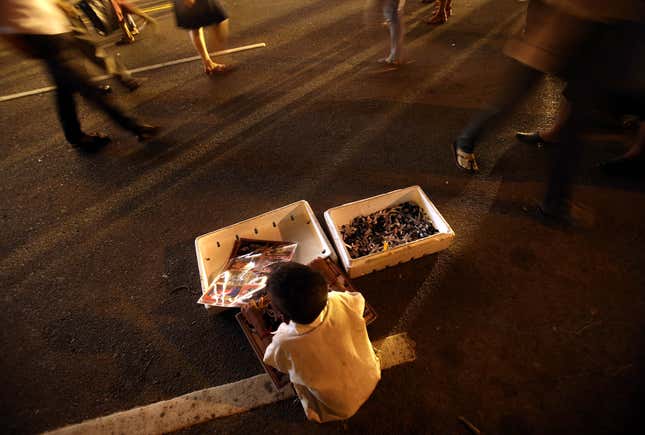 Yet there was also something unsentimentally clear-eyed about it as well. Families in t-shirts printed with portraits of Sihanouk picnicked on boiled eggs. Small children jockeyed with each other fiercely to sell black and white mourning ribbons. "You already have one?" said one persistent little girl. "Buy another one for your friend. Only 50 rial. You want black, white or black-and-white?"
Mourning is brisk business in a country where death comes with a gift shop.
Even the hallowed Killing Fields were turned over to a Japanese company JC Royal in 2005 which promptly jacked up entry prices for foreign tourists. Now an audio tour costs five dollars. JC Royal leases the Killing Fields from the government for $15,000 a year and keeps the revenues from thousands of tourists like me, although some of it goes into a scholarship fund. Back in 2007, an official told AFP that, thanks in part to the international media buzz around the Khmer Rouge tribunals, which began in 2007, the number of foreign visitors was steadily increasing, from 200 to 300 per day in 2006 to 500 per day in 2007. "Some say we've sold the Killing Fields," a guide resignedly explained to her tour group. It appears to be working; tourism contributes a growing 12% of the country's GDP.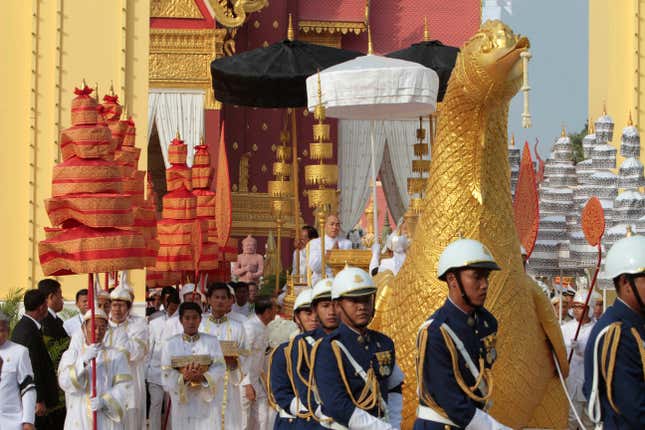 At one of the little shops facing the Sisowath Quay, a stone's throw from the plaza where Cambodians mourned their king, a travel company offered a tour of the sights of Phnom Penh for $6. There was a picture of a pile of skulls from the Killing Fields, a painting from S-21 showing a small baby being wrenched from the arms of its wailing mother. But this tour of heartbreak country, where well over a million people were executed by the Khmer Rouge, came with one more attraction advertised by the photograph of a beaming blond woman—a visit to a shooting range where you could try your hand at a real assault weapon.
The primal desire to see death up close can be overwhelming. My fellow traveler, Olivia, thought about going to see the Holocaust memorials in Europe during Easter.
"But I think I need a bit of break," she sighed. "It's really hard."