This article has been corrected.
Alee dreams of becoming a professional soccer player. While this aspiration is slim for most, it's particularly difficult for an 18-year-old Afghani asylum seeker currently living in Hamburg, Germany.
Alee is among the tens of thousands of unaccompanied minors who have fled to Europe in the current refugee crisis.  "I love to play football, but I couldn't play for local teams because I don't have any documents," Alee tells Quartz. He explains that like many other asylum seekers living in reception centers, he doesn't have a registered address, which bars him from joining most local soccer clubs.
That didn't matter to FC Lampedusa, a soccer team made up entirely of asylum seekers and refugees. They are predominately West Africans who worked in Libya for several years before the civil war broke out; they fled and reached the Italian island of Lampedusa, where they lived in an EU-funded detention center. Once the funding stopped, the Italian authorities gave the refugees residence permits, a small amount of money, and told them to leave.
Three hundred of these so-called Lampedusa refugees arrived in Hamburg in 2012. They were initially provided with shelter, but that quickly came to an end. The Hamburg government demanded that the refugees be returned to Italy. The Lampedusa refugees refused, and first chanted the slogan that would come to define their team: "Here to stay, here to play."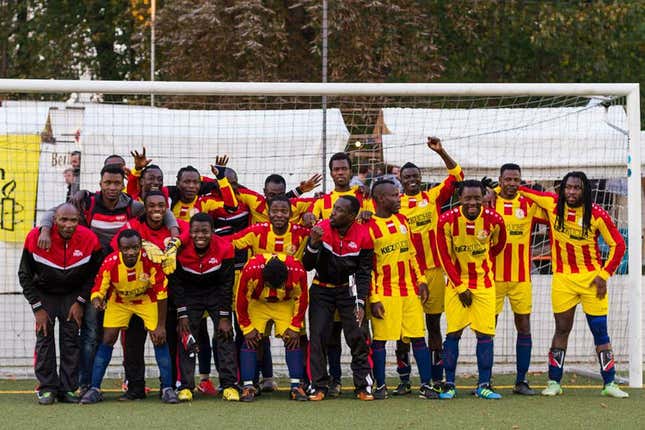 The refugees went on to ask FC St Pauli, a soccer team that prides itself on its anti-racist and anti-fascist tradition, to help them set up their own team. "These are people who have lost everything—their homes, families, normal lives, and they're excluded for not having shoes," explains Hagar Groeteke, one of the five coaching staff, all of whom are women. "You don't need papers to live in our city and you don't need papers to play football," she says.
The team plays in a leisure league and usually has matches against other refugee or anti-racist teams. Groeteke says that most clubs didn't want refugees playing, even the young ones, because they don't want to deal with players who can't speak German, are too poor to buy equipment, and are at risk of being deported.
When Groeteke asked some of the younger players if they wanted to be trained by a regular club, most declined. They said they liked playing for a team where they're all the same, where they're not the only ones without money or shoes or no place to call home.
For Alee, the loneliness can at times be overwhelming as he waits for his asylum application to be processed, especially as he doesn't have much to do. He misses his family, particularly his mother; he doesn't know where she is or whether she's safe. "Only God can help her now," he says. "When I play with FC Lampedusa, I don't feel like I'm alone. I have many friends here."
His favorite memory of living in Germany so far is the football tournament he recently participated in. He played against other refugee teams, around six matches, and scored about five or six goals. "I felt very happy," he says. "That was a very good day for me."
Sadly, the number of refugee teams has been growing steadily across Europe as the continent faces its worst humanitarian crisis since World War II. In France, asylum seekers in the city of Lyon formed a soccer team of their own.  There's Atlético de Pinto in Spain and the Young Caritas Käfig League in Austria. There's even Outcasts United in the US. In fact, here is a database of teams that refugees can join.
All of the people behind these teams are using the world's favorite sport to get through the worst period of their lives.
Beautiful game—for all
Liberi Nantes's slogan is "free to play" and it is one of Italy's most famous refugee-only teams. For the last seven years, Liberi Nantes has been working closely with over 60 asylum centers to help refugees not only improve their physical and mental health, but also build a support network in the city's base in Rome.
"For the majority of players, they define the team as family," says Daniela Conti, president of Liberi Nantes. The club goes further than just training players; it also provides hiking expeditions, which are particularly popular with women, as well as language classes. Conti explains that once the players are given the support they deserve, they go on to do remarkable things.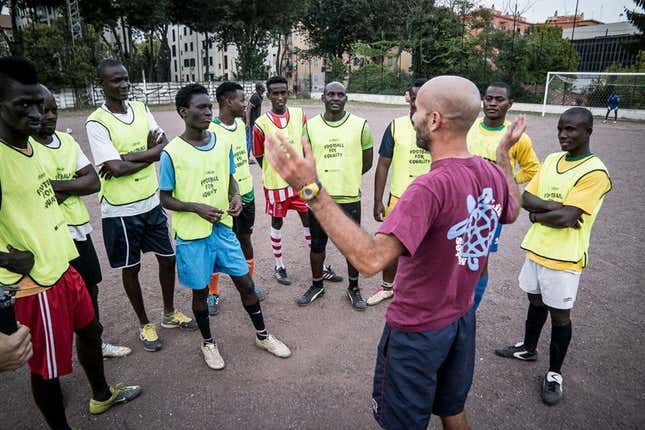 Some players have joined local teams—Neorizon and Albarossa, for example—while others have become trainers and coaches at Liberi Nantes.
Soccer has been the only constant throughout Yamkuba's turbulent life. He first started playing when he was 10 in Gambia and quickly rose up the ranks to play for the youth division in his country. He worked in Libya for a few years, but was left escaping for his life as a result of the civil war. Like so many refugees, Yamkuba made the dangerous journey across the Mediterranean Sea on a boat in hopes of making a better life for himself in Europe. He arrived in Italy in 2011 and applied for asylum. "I was in a camp for 10 months, but I still played football," he tells Quartz. "I trained every morning and night."
Asylum seekers are often left in limbo while their application is being processed. They have to wait in asylum centers and are unable to work or do anything else in the mean time. Soccer helps.
When asked whether Yamkuba, now 26, was on track to play professionally, he says: "I don't want to say much more about myself, you need to come down and see me play football." He insisted his skills speak for themselves.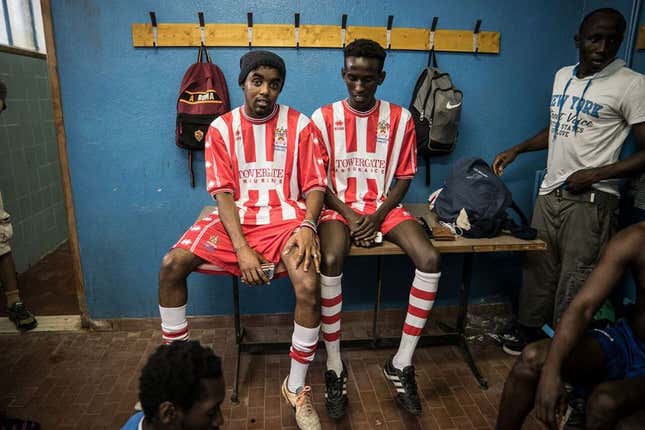 "We are together"
The Swahili phrase "tupo pamoja" has become the unofficial motto for players in United Glasgow FC.
It might seem strange to hear a group of young, working class Scottish men using this phrase, but for founder and chairperson Alan White it highlights the success of a football team dedicated to supporting refugees and asylum seekers. It literally translates to "We are as one," but the players in Glasgow use it to mean: "We are together."
White set up United Glasgow FC in 2011 to remove the barriers asylum seekers face when trying to participate in sport. The team started small, with just a handful of people. There are now four teams, including one for women.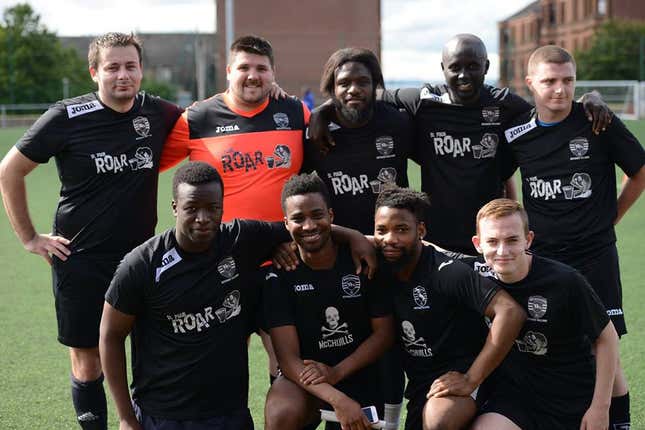 He eventually opened up the teams to everyone in the area to also tackle the exclusion felt by local young people who were being priced out of sport. "It's as much about bringing people together as it is about football itself," White tells Quartz.
While there are the obvious benefits for refugee players who get to learn English and meet new people, White says it's also important to look at integration as a two-way process. "A lot of young Scottish people who come along don't know a great deal about other cultures," he says.
He doesn't know how many different nationalities there are in his team or the immigration status of his players, nor is he particularly interested in finding out. "We're not going to grill people about their backgrounds," he says. "At the end of the day, they're there to play football."
Correction: An earlier version of this piece said Liberi Nantes meant "free to play"; that is the team's slogan, not the meaning of its name.