Not that long ago, Facebook was just a popular social network. Today, it's on its way to becoming an interface for the entire internet, so much so that many Facebook users in developing countries have little experience of the internet outside of it.
In a step to further its control of the web—specifically the mobile web—the company announced that in the coming weeks it's going to begin testing a new feature that will let users shop directly in its app. It's also rolling out a new ad format: Rather than redirect users to a brand's website when they click an ad in the Facebook app, it will show them a page of products within the app.
Both features would ultimately have the same result, which is to keep people in the Facebook app even more, and could make Facebook a major shopping destination as much as a place to connect with others.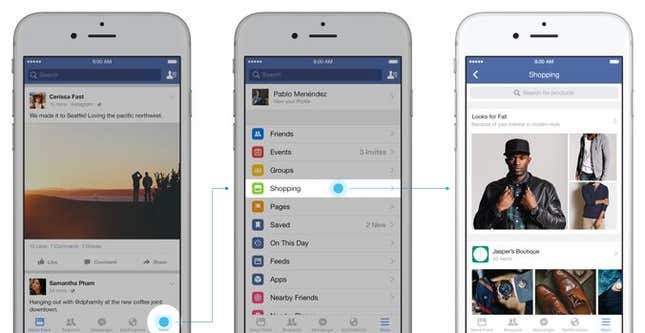 In the US, for instance, consumers already spend 85% of their time on smartphones in apps, and just a few apps at that, with Facebook leading the pack. And while app use is increasing, the number of apps people in the US use generally isn't. They're just spending more time in the same few. Add to that the fact that consumers already make most of their online purchases on mobile—but don't want to use a separate retailer's app for each one—and Facebook is poised to become a major gateway for online shopping.
Undoubtedly retailers will want to reach Facebook's 1.25 billion monthly active users on mobile, but the company isn't known for giving away access for free. If the shopping feature takes off, retailers will likely have to pay to get their products in front of potential customers.
It's notable that the move comes just a few months after Instagram, which Facebook owns, launched ads that prompt customers to shop the products featured. Instagram has long been seen as a potential gold mine for retailers (paywall), since its users already spend a huge amount of time on the app looking at clothes. The ads it launched, however, direct users to mobile sites outside the app. The ideal scenario for retailers would be precisely the one Facebook is starting to test on its app.
According to the information released, Facebook will start with a "limited set of small businesses in the US who are also testing the Shop section on Pages," and will expand over time to include more content, such as "items listed for sale in Facebook Groups."
As that happens, Facebook will inch closer to becoming the world's virtual town square, where people interact, get their news, and do their shopping.