Wall Street isn't buying what Walmart is selling.
Shares of the world's largest retailer fell nearly 10% today (Oct. 14)—its largest drop in 27 years—after it spooked investors with a grim sales and profit forecast.
The retailer's plea: Stay patient for just three years and our multi-billion-dollar cash outlays to revamp the company are definitely going to pay off.
"This is a growth company, it just happens to be a really large growth company," Walmart CEO Doug McMillon told analysts at its annual investor conference.
He noted that the company expects flat sales and a 6% to 12% drop in earnings per share next year. But by fiscal year 2019, he said, the engine will rev up again and earnings per share will grow to a level above where the company is today.
In other words, Walmart is asking investors to change the way they think about Walmart. Instead of turning to the company for a steady source of cash and dividends, the company now wants investors to bet on it like a smaller, more nimble growth company (despite the fact it brings in half a trillion dollars in yearly sales).
And if investors are overlooking Amazon's minimal profits for the promise of long-term growth, then why can't they treat Walmart the same way?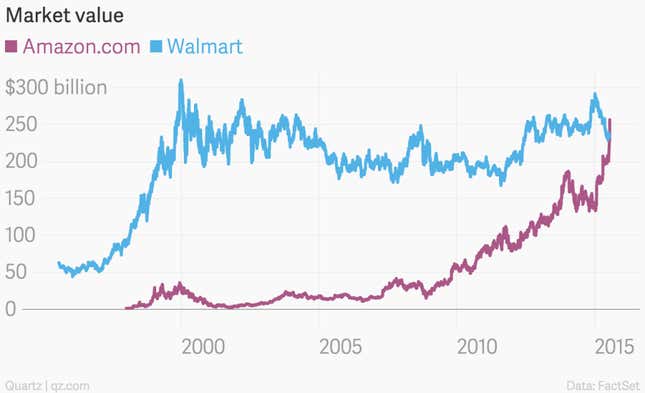 McMillon posed the question outright to analysts on Wednesday, with an apparent reference to Amazon:
"Is it easier for an e-commerce company to build out a massive store network and create a customer service culture at scale? Or are we better able to add digital and supply chain capabilities and leverage our existing stores? We like our chances."
McMillon outlined plans to spend $2.7 billion over the next two years to increase starting wages in the US to $10 an hour, as well as plunging an additional $2 billion into its e-commerce operations.
Meanwhile, he said the company would pare back store-opening plans and shed assets that no longer fit the new Walmart. "We understand that this requires patience from our investors, and we want to be very clear. These are the right investments for our future," he said.
The thing is, Walmart has been talking about its investments in e-commerce for quite some time now. And while it has managed to double online sales over the past few years to more than $12 billion, its online revenue pales in comparison to that of bigger rivals like Amazon and Alibaba. Even Walmart's own promises of 30% yearly e-commerce growth have been dialed back—last year it posted 22% online sales growth.
E-commerce retailers have gained market share as Walmart flip-flops from one strategy to the next in hopes of revamping its US business, and Wall Street's patience has been wearing thin.
Perhaps Walmart's own US CEO Greg Foran put it best at the close of the investor meeting: "We'll get one point for talking about" Walmart's grand plan to revamp the company and nine points for actually pulling it off.