At the beginning of this year's annual United Nations General Assembly, world leaders set out to end extreme poverty in 15 years. This is not the first time the UN set such an ambitious goal for itself. In 1990, it committed to achieving 15 development programs that would end extreme poverty by 2015. While there has been much progress, extreme poverty is all but gone.
Perhaps the issue is that extreme poverty isn't the real problem.
Swedish electronic music duo The Knife has an interesting new proposal: what if, instead of ending extreme poverty, the UN concentrated on ending extreme wealth?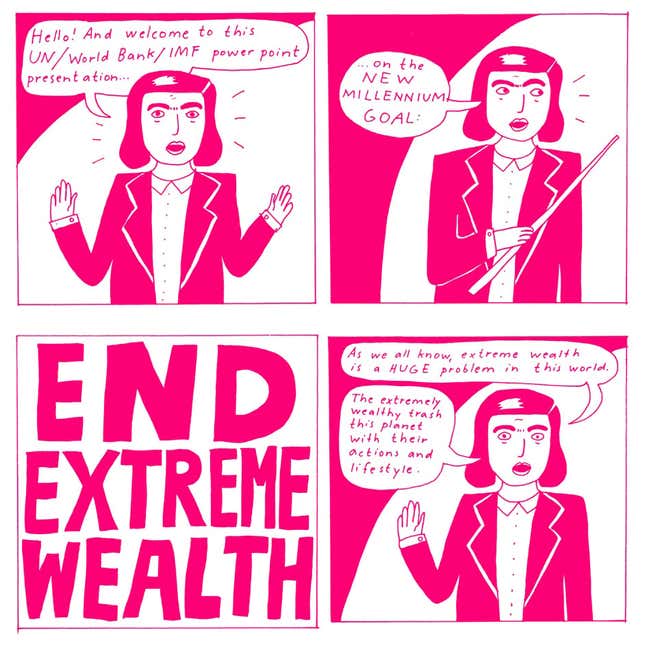 A comic released with the duo's last album, "Shaking the Habitual," imagines this reality in satire. Created by Malmö-based Swedish comic artist Liv Strömquist, the comic is a perfect mockery of the development jargon.
If just a small portion of the wealth from the über-rich were more equally distributed it would have benefit everything from the environment to housing to gender equality. As one of the "experts" in the comic says, "you can do much with small means," for instance housing "25 to 35 people" in just one of the many mansions an extreme wealthy person owns.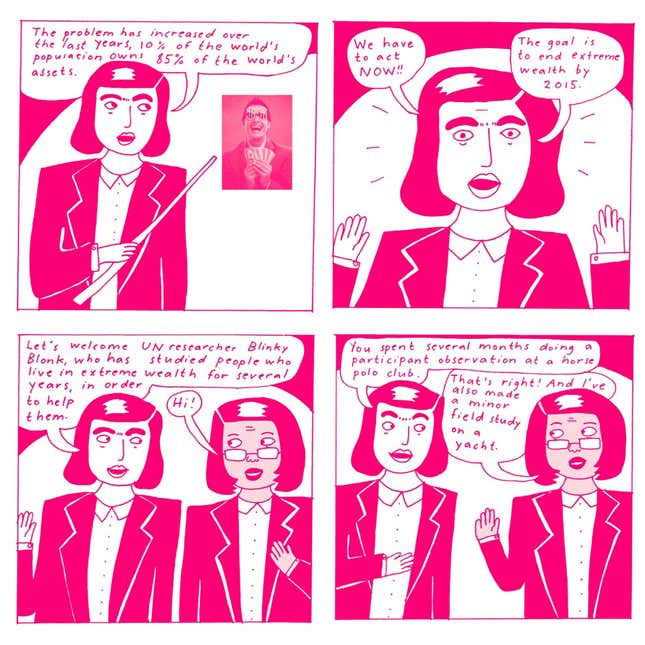 Strömquist, whose work focuses on feminist graphic novels and satirical comics, told Quartz that she was contacted by the musicians to create a comic for their album. "End Extreme Wealth," she said, originated from the theme some of the album and from a conversation she had with the musicians about wealth concentration.
"It was clearly to make a political statement," Strömquist told Quartz.
And it did. After the comic was exhibited at the Göteborg International Biennial for Contemporary Art, the author was contacted by some representatives of the Spanish party Podemos, who wanted to hand the comic out at rallies.
While the campaign might be a little too revolutionary to be adopted anytime soon, the marketing plan is ready. Strömquist has even thought about an End Extreme Wealth concert—because what world-changing campaign doesn't have a big concert, perhaps in Central Park?