Typhoon Koppu slammed into the Philippines with formidable winds this weekend—reaching 240 kph (150 mph) before landfall—but weather experts say the rain, not the wind, is the main worry.
The storm (known locally as Typhoon Lando) has already dumped massive amounts of rain on Luzon, the nation's main northern island and home to nearly half its population of 98 million people. The death toll has been minimal, but with the exceptional rains expected to rage on for several more days, the risk of flash floods and mudslides is growing by the hour and over 16,000 have been evacuated so far.
The heavy rains are widespread across the island, including in Cabanatuan, a city in central Luzon: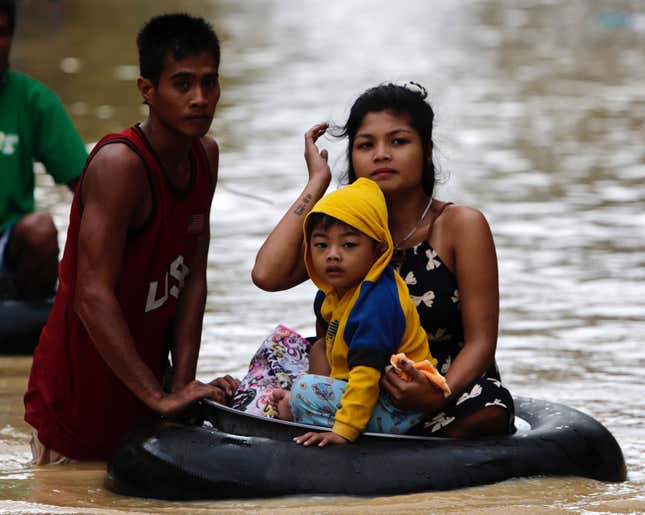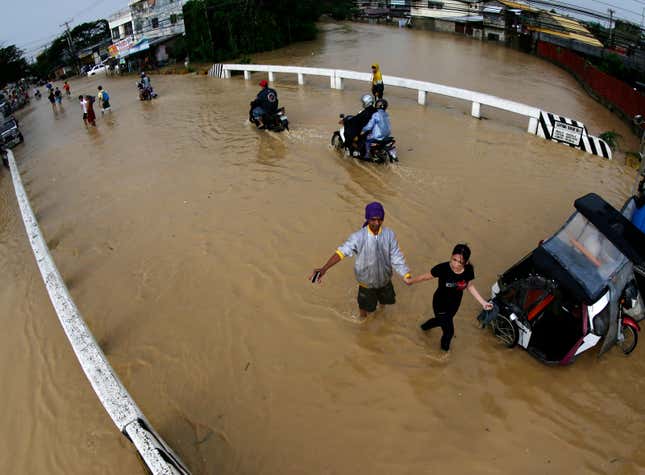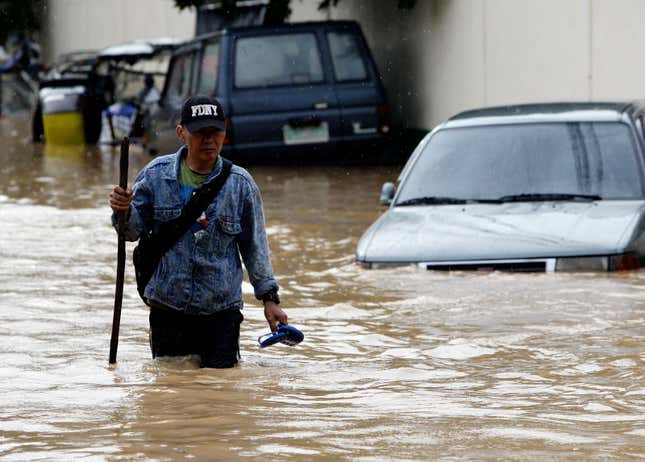 Thousands of villages have fled their homes, wary of a repeat of previous typhoons. In 2009 more 460 people died from severe flooding and mudslides in the city of Baguio and other parts of northwestern Luzon. That's when Typhoon Parma (known locally at Typhoon Pepeng) dumped 1,854 milliliters (73 inches) on the area.
Baguio, a high-elevation city of about 320,000, is getting especially walloped. As of early Monday (Oct. 19) morning, it had received 208.3 millimeters (8.2 inches) of rainfall, with 610 millimeters more possible in the coming days, even as the storm is weakening.
Some 15 to 20 million people live in the area of northern Luzon north of Manila, many of them in cities with steep hillsides or flood-prone rivers, and in some cases both. Many roads have already been flooded, and millions of people have suffered power outages.
Floods in Manila, one of the world's most densely populated cities, are also a worry. Parts of the capital look oddly naked without road-side billboards, many of which were taken down ahead of the typhoon's arrival.
Public warning systems have been greatly improved since 2013, when Super Typhoon Haiyan killed more than 6,300 people.