Amazon.com has filed a lawsuit against 1,114 unnamed individuals who it says have been writing fake reviews of products and services in its online marketplace. This is a continuation of the crackdown the retail giant began in April, when it sued a handful of website operators who facilitated the sale of such reviews.
Global consumers increasingly look to crowdsourced ratings before spending money on hotels, restaurants, movies, and other goods and services. One customer's negative review can dissuade future customers from buying—that's why business owners get so incensed when they see what looks like unfair feedback on the reviewing platform Yelp. If you're a third-party seller on Amazon, you hope to see a stack of five-star and four-star reviews on your listing page. And if you haven't earned that positive feedback, in the form of unsolicited reviews, you might be tempted to solicit some. Plenty of anonymous internet users would be willing to help you out.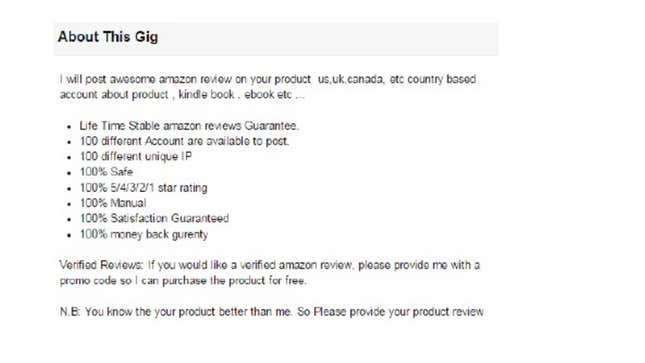 The 1,114 defendants in this new lawsuit each used Fiverr.com, a site for freelancers to be hired for small jobs starting at $5 per task, to offer to write glowing reviews on Amazon sellers' pages—often for only $5. Amazon conducted its own sting operation to root out these writers, who are violating Fiverr's terms of service by providing services that violate Amazon's.
According to the lawsuit, "defendants are misleading Amazon's customers and tarnishing Amazon's brand for their own profit and the profit of a handful of dishonest sellers and manufacturers." 
Amazon employees posing as third-party sellers communicated directly with the defendants on Fiverr and even purchased reviews—including "Verified" reviews, for which the reviewer needs to have proof of purchase.