This spring, I created my dream job. At least, I'm sure that's the way it looks. It's a job that blurs the line between work and play—a job where the things I do for fun, like hiking and cycling, can happen "on the clock."
And yet no position has ever left me more emotionally drained.
The job came about after I left my post as a reporter and anchor at Wyoming's NPR station. I liked public radio; I had a well-respected gig, my colleagues were smart and supportive, and my work felt meaningful. But I didn't love it. Not enough anyway. So I finally quit.
After a summer of soul searching, I began crafting a new career for myself. The plan was to create and host a podcast about the outdoors: a show that would explore our relationship with nature through poignant personal stories that tackled big social and environmental questions.
It should have been perfect. I had found a way to create a career out of my passion—to meld my training as a journalist with my love for the wild. I was following the advice we always hear: do what you love; love what you do.
And yet the longer I worked on the podcast, the more anxious I became. Part of it was the stress inherent to starting a new business. But there was a bigger problem: by creating a job out of the things I did for fun, I had turned fun into a job.
Work seemed to follow me wherever I went. While training for a Nordic half marathon, I planned out a story about why humans are drawn to racing. When a friend took me rock climbing for the first time, I considered chronicling my maiden voyage up the cliff. And when I signed up for a long-distance mountain bike race, I began keeping an audio diary and roped my friends into helping me record on race day.
Working on these stories was fun but also exhausting. Outdoor recreation used to be my happy place—the thing I'd do to erase the stress of work. Now outdoor recreation was work. Because of that, it was nearly impossible to unwind. I was always planning out stories, never just enjoying the moment.
Things came to a head when I planned a vacation. I've always liked active getaways, and this time I set my heart on a 500-mile mountain bike ride through Idaho. The route promised to take me through some of the most beautiful scenery in the northern Rockies and boasted more than 40 hot springs. I couldn't wait. After a turbulent year, I would finally have three weeks alone in the mountains. Three weeks of adventure. Three weeks of bliss.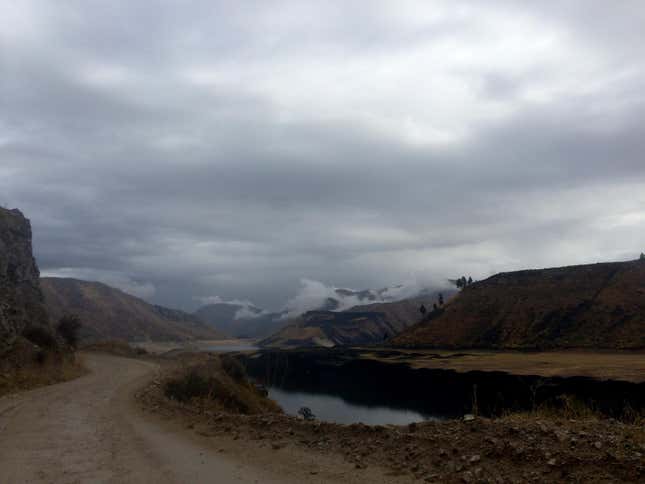 But of course, it couldn't be just a vacation.
Before I even embarked on the trip, I started planning out the story I would write about my adventure. We've all seen gripping documentaries about notable first tries: two men attempting to ski to the south pole; a 13-year-old trying to sail around the world alone; a pair of novice rowers setting out across the Indian Ocean. The films are humorous, and ultimately inspiring, because the unlikeliest of underdogs become heroes.
I wanted to do the radio equivalent: first-time "bikepacker" sets out to ride tough new route through rugged Idaho mountains by herself. I would document my preparations for the trip and would rig up recording gear that I could use while riding. Along the way I'd capture all the funny, poignant, infuriating, triumphant moments, and at the end I would emerge victorious, beating all the odds.
It would be a gem of an audio documentary, and I threw myself into prepping for it. I researched compact recording equipment, interviewed the cartographer who mapped out the bike route, and taped a conversation in which family members voiced the requisite skepticism about my plan.
I was getting good "tape," as we radio nerds call it. But the more audio I gathered, the more my excitement for the bike tour faded. What had once seemed a thrilling adventure—a time to escape the real world and rejuvenate in the woods—was now a chore. I realized with a sinking feeling that this trip wouldn't be a break from work; it would be round-the-clock work.
I continued with the preparations, but my heart wasn't in it anymore. Reporting on the adventure had sucked the joy out of my passion.
Then, a few weeks before I was set to leave, I met with my therapist. Sensing my agitation, she asked whether I was getting enough "down time."
"Well…" I said. "I'm doing this bike trip in Idaho next month."
I explained about the ride and the story I hoped to produce.
She gave me a long look. "Willow," she said finally. "That's not down time. Down time is when you're not thinking about work."
"Oh," I mumbled, and burst into tears.
She was right: I needed time for myself. And so, although I cringed at ditching my documentary after I'd already put so much work into it, I finally decided to leave my recording gear at home. The bike tour would be a personal trip—an excursion in the outdoors that was just for me.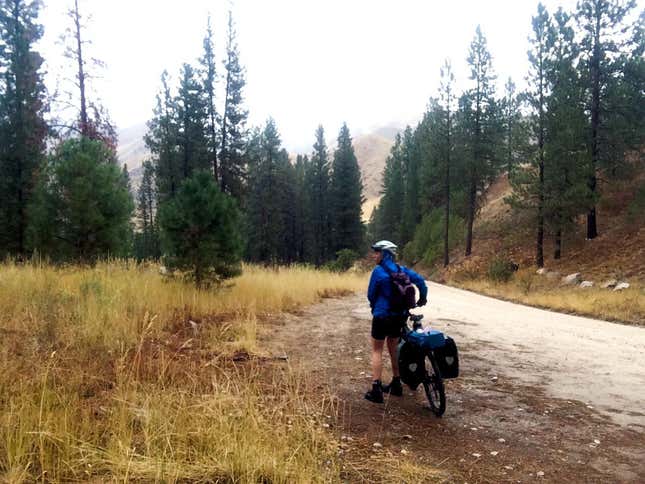 The sense of relief was instant and powerful. Suddenly, my impending expedition was exciting again.
As it turned out, the trip was not the idyllic retreat I had envisioned. The hills were relentlessly long and punishingly steep. The hydraulics on my bike failed. It rained for days on end. And the deluge washed so much dirt into the rivers that I couldn't purify the water with the chlorine drops I'd brought.
After a few days, the rain turned to snow, and the hills became too steep to ride. It was miserable.
Finally, shivering in the sleet on a soggy mountainside, I began to wonder whether the suffer-fest was worth it.
"I don't have to do this," I told myself. "This is a vacation. It's meant to be fun."
I took a deep breath, stuffed my ego into the farthest recesses of my mind, and turned around.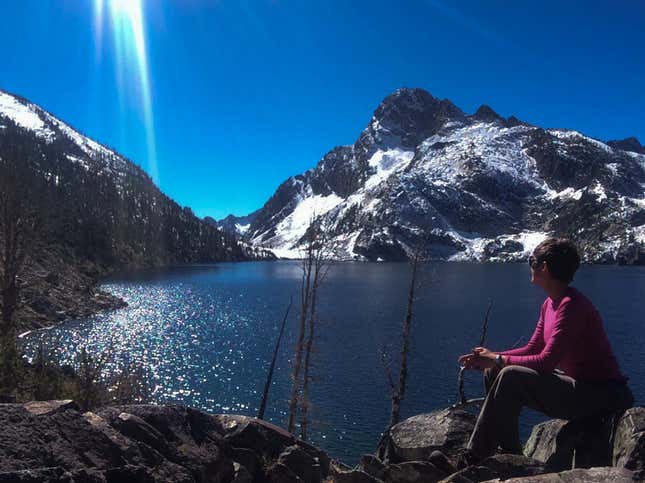 Quitting was bittersweet. I pride myself on finishing the things I start, and bailing on the bike tour after just four days left me defeated and humiliated. But the discouragement was mixed with something unexpected: a sense of freedom. Had I been documenting the trip for a story, I would never have allowed myself to give up. But now, free from the shackles of the podcast, it was OK to throw in the towel. And it felt sinfully good. I was beholden to no one and nothing, and I now had two weeks to spend however I pleased. Two weeks to enjoy life. Two weeks for me.
I drove a few hours north to the Sawtooth Mountains, and instantly knew I had made the right decision to ditch the bike tour. This was paradise. Fresh snow glistened on the craggy peaks; brilliant sunshine bathed the wilderness in a warm glow; and a radiant sea of golden-leafed Aspen trees blanketed the hillsides. I explored the mountains in the mornings, read novels by a lake in the afternoons, soaked in nearby hot springs under moonlit skies, and befriended the locals. Finally, I was letting myself relax. It was glorious.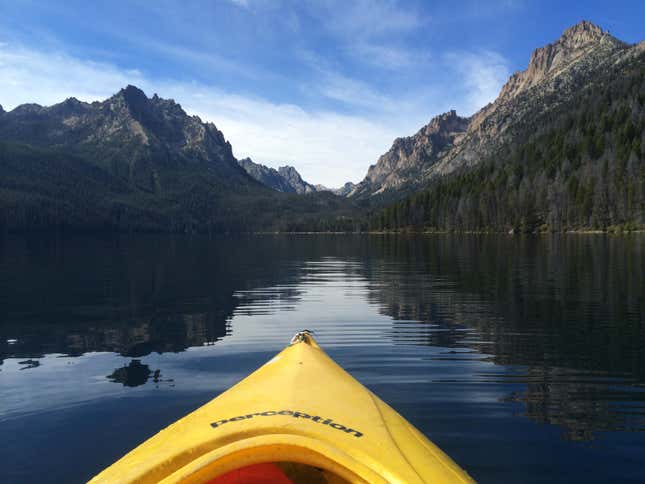 By the time I returned home two weeks later, I was refreshed and ready to take life by the horns. And more importantly, I had learned a meaningful lesson: a dream job is not a utopia. Blurring the line between work and fun—a move that had seemed brilliant a year ago—had made my life more stressful, not less. Boundaries, it turned out, were helpful. Necessary, even. That doesn't mean I made the wrong career move by starting a business centered around my passions. On the contrary, I'm thrilled to be doing something I love. But I've realized that I have to separate work and play from time to time, in order to keep loving what I do.
You can listen to Willow's podcast, Out There: A Podcast About the Outdoors.