This post has been corrected.
It happens every year, but this year is shaping up as one of the worst ever. During Indonesia's dry season, certain people—rarely identified, much less punished—set fires to make land suitable for the palm oil and paper-and-pulp industries. Those fires generate huge amounts of smoke, and the toxic haze often reaches neighboring countries, including Singapore and Malaysia. But this year the El Niño weather phenomenon has created extremely dry conditions, leading to an unusually intense, long-lasting "smoke-out" for the region, affecting everything from travel to sporting events to respiratory health.
So far this year, Indonesia's fires have produced more pollution than Germany or Japan does in a year. On 26 days from the period of Sept. 1 to Oct. 14, their daily emissions surpassed those of the entire US (the world's second-largest emitter of greenhouse gases after China), according to researchers led by Guido van der Werf from VU University Amsterdam. They calculated that the 100,000-plus fires in Indonesia detected so far this year (as of Oct. 21) have emitted about 1.4 billion metric tons (1.5 billion tons) of carbon dioxide equivalents. That puts the country on track for its worst fire year since 1997. On Oct. 14 alone there were more than 4,700 fire alerts—that's more than on any single day in the past two years.
So why are these fires so potent? More than half of them this year have occurred on peatland areas, concentrated mainly in south Sumatra, south and central Kalimantan (on Borneo), and Papua, according to the World Resources Institute, citing data from Global Forest Watch Fires.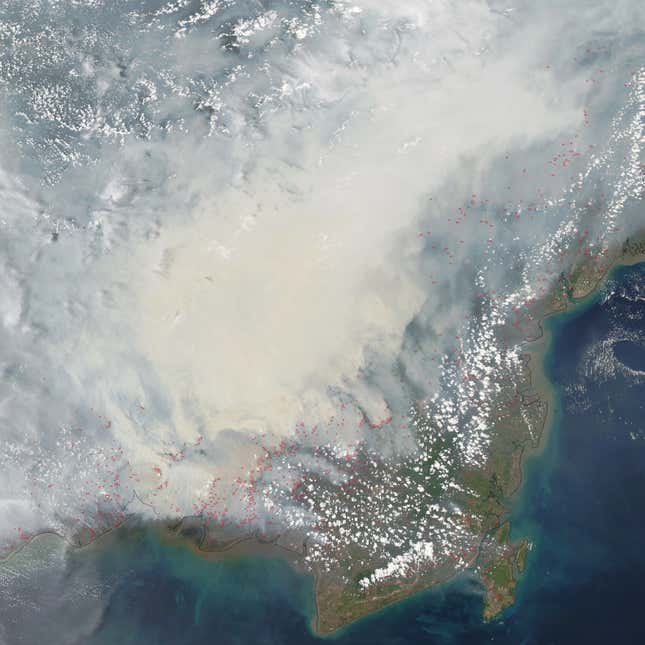 Tropical peatland fires are not like regular forest fires. They generate enormous amounts of smoke and are fiendishly difficult to extinguish. Draining and burning these lands for agricultural expansion leads to huge spikes in greenhouse gas emissions. According to the institute, peat fires can emit up to 10 times more methane—a greenhouse gas 21 times more potent than carbon dioxide—than fires occurring on other types of land. Taken together, the impact of peat fires on global warming can be more than 200 times greater than fires on other lands.
Don't expect such fires to go away anytime soon. Indonesia and Malaysia—which control about 85% of the world's palm oil production—recently announced their intentions to establish a palm oil cartel. This could help them set their own environmental standards (or maintain the status quo), and pay less heed to calls to produce palm oil in ways that preserve wildlife habitat, protect the environment, and don't make breathing so difficult for millions of people living in Southeast Asia.
Correction: A previous version of this article stated an incorrect amount for the carbon dioxide equivalents emitted by Indonesia's fires so far this year. The figure has been corrected and updated.