Hong Kong's century-old South China Morning Post (SCMP) newspaper is an institution in Asia but, like most traditional media, it faces a tough challenge making a profit while printing physical copies. Unlike most traditional media, it it trying out a fashion-focused solution.
Yesterday (Oct. 20) the SCMP Group, the paper's publisher, announced the purchase of MyDress.com, a Hong Kong-based online clothing retailer that, despite the name, sells "fast fashion" clothes for both women and men from dozens of different manufacturers in Greater China: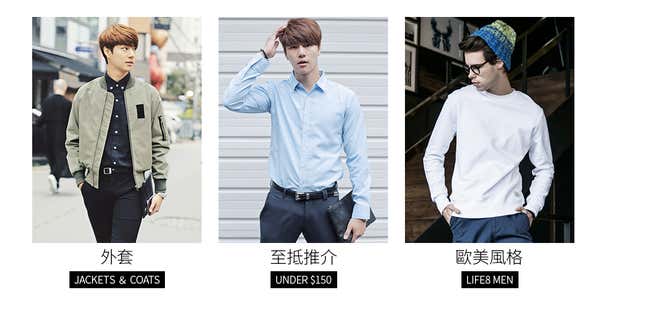 The SCMP will buy 56.7% of the two-year-old fashion retailer which, according to the SCMP announcement, Google ranked as the most searched-for fashion e-commerce site in Hong Kong via mobile devices in 2014. It will spend HK$39.7 million ($5.1 million) on the deal.
The company plans to use the deal to "extend along the internet value chain of 'content-community-commerce', thus enabling new monetization possibilities," Robin Hu, CEO of SCMP Group, said in the newspaper article—a statement that, the best we can figure, means featuring stuff from MyDress.com in the publisher's online articles with links to the fashion website.
As well as its flagship newspaper, the SCMP Group also has stakes in the regional versions of several lifestyle magazines, including Esquire, Elle, Elle Men, and Harper's Bazaar.
The group's online lifestyle and fashion publications could allow readers to click through from a fashion shoot straight to the Mydress.com sales platform, a sort of reverse version of the successful business model of Net-A-Porter. Instagram also made efforts to bridge content with shopping when it allowed users to tag brands in their photos.
The deal is part of a growing trend of Hong Kong and greater China media expanding into e-commerce. Earlier this year, China Business News partnered with e-commerce giant Alibaba and broadcaster Hong Kong Television Network started an online shopping group.
Once upon a time, the SCMP was said to be the most profitable newspaper in the world, per reader. The media group, which was owned by Rupert Murdoch until the early 1990s, reported a net profit of 805 million Hong Kong dollars (equal to a little over $200 million in today's US dollars) in 1997, with an estimated circulation of around half a million or less, or a profit of $420 per reader at 500,000 readers. For a rough comparison, in 2000, the New York Times Company recorded a net profit of around $680 million in today's dollars, from a total circulation of 7.6 million across its various titles, or $90 per reader.
But its print circulation has slumped, while online has increased:
And predictably, that's been hurting its income:
Serious newspapers have long been subsidized by "less serious" media; profits from advertising in the New York Times' T Magazine cancel out the newsier Sunday magazine's losses, for example. But moving directly into selling goods to readers is a big leap for the SCMP.