Shell is preparing to begin drilling for oil offshore from Nova Scotia after crossing a near-final regulatory hurdle in the Canadian province, yet another step in an extraordinary story of a government's attempt to reverse a steep local economic decline.
The plunge in global oil prices triggered some doubts as to whether the project would go ahead given the industry's steep cuts in capital expenses. But a drillship called the Stena Max arrived in Nova Scotian waters on Oct. 19 from the Gulf of Mexico, Shell said. The objective is to drill two wells about 150 miles offshore from the capital of Halifax. The government regulator said in a statement on Oct. 20 that it expects to give the final go-ahead to drill "within the next few days."
If the project is successful, it would cap a remarkable eight-year effort by the province to turn around its fortunes after the oil industry had all but given up hope on Nova Scotia. It began in 2007 with a simple order by a local official to Sandy MacMullin, the Nova Scotia government's head oil man, to think of "a plan"—any plan—to save the province after the successive demises of its lifeblood cod, lobster, timber, and natural gas industries.
Though the oil industry had abandoned Nova Scotia, MacMullin had a hunch that the companies were wrong. That led to Nova Scotia being crawled over by paleogeologists, who, starting all the way back 200 million years ago when the province was conjoined with Morocco, gathered geological evidence and pinpointed what they reckoned were potential oil drilling sites.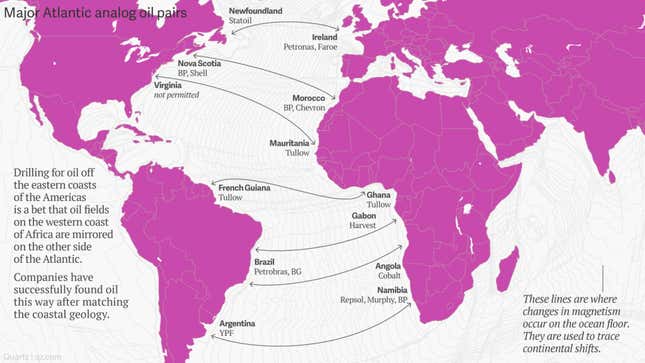 The paleogeologists were following a method known as "analog exploration" (see illustration), in which explorers know that, since the continents were once fused together in a supercontinent known as Pangaea, if they find oil on one side of the sea, there is a possibility to find it as well in its sister rock on the other side. In this case, oil had been found in Morocco, so the paleogeologists started out with some confidence that it was in Nova Scotia, too.
MacMullin wrapped up some books containing their conclusions and went on a tour of oil company offices. That is what convinced Shell and BP to commit to spending a combined $2 billion to find out if the paleogeologists are right.
Shell did not say how long it would take to finish the wells and determine, at least on a first look, whether there is oil offshore, but it said the entire initial drilling operation will take 10 or 11 months.