Britain is doing everything it can to make Chinese president Xi Jinping comfortable during his state visit to the UK this week. Including, it seems, arresting peaceful protesters.
Two British-Tibetan women were arrested on Oct. 21 outside of London's Mansion House, where Xi was speaking to business leaders, according to Tibetan Community in UK, an activist group. The women "attempted to wave Tibetan flags at President Xi's passing car and were forcefully taken away by police," the group said. It posted photos of their arrests: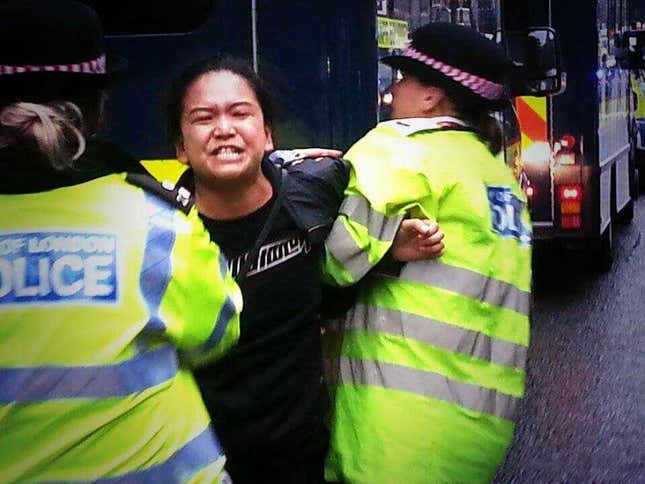 Asked to comment on the alleged arrests of British citizens near Xi's motorcade, Britain's Metropolitan Police sent Quartz this statement confirming arrests related to Xi's visit, but gave no further details:
At around 16:30hrs on Wednesday, 21 October officers on the security operation for the visiting Chinese President arrested a man in the bank area to prevent a breach of the peace.
Two women were arrested nearby shortly after, also to prevent a breach of the peace.
All three were further arrested on suspicion of conspiracy to commit threatening behaviour. They were taken into custody at a central London police station where they remain at this time.
It's not clear what, if anything, caused police to suspect the protesters of "conspiracy to commit threatening behavior."
China's government has long been criticized for its oppressive rule of Tibet, which it wields political control over. Under Xi, the government has cracked down even harder on followers of the Dalai Lama, the Tibetan people's exiled spiritual leader.
Eyewitnesses at the London protest told members of the Tibetan group that the women were at first told that they wouldn't be arrested, "but then an order later came to make arrests." The man is believed to be Chinese democracy activist and Tiananmen Square veteran Shao Jiang.
"As a British Tibetan, I am shocked that the Met Police would arrest peaceful protesters," said Tsering Passang, chair of the Tibetan Community in Britain, in a statement on the group's website. "Tibetans are being silenced both in their homeland and now in the UK."
Britain passed a Human Rights Act in 1998 to guarantee citizens the "right to freedom of peaceful assembly" with few restrictions that include "national security or public safety, for the prevention of disorder or crime."
Xi's visit has been marked by sporadic protests from Tibetans, dissidents and other human rights activists, but they have been outnumbered by pro-China groups. The UK has been criticized by some of its allies (paywall) for being soft on China's human rights record.