This post has been corrected.
There are few things more heart-wrenching than the milliseconds between dropping a phone and checking to see if the screen is shattered. That time can feel like eons as you run down the list of things you're going to need to cut from your budget to replace the screen, or the hoops you'll need to jump through to get it fixed. But Motorola wants to remove those moments from your life.
At an event with Verizon in New York yesterday (Oct. 27), Motorola announced the latest versions of its Droid phone line, the Droid Turbo 2 and Maxx 2. The event—and the phones—were pretty perfunctory, barring one bold claim from Motorola: The screen on the new Droid Turbo 2 is shatterproof. The phone's screen should be able to withstand any drop or fall that a phone is likely to encounter during regular use. We decided to test this claim.
At the event, the Turbo 2 was dropped onto a piece of concrete in front of a group of camera-toting journalists. It seemed to be fine, but I wanted to double-check. I tested the phone at the Quartz office, dropping it from a range of heights in a variety of ways, trying to simulate missing my pocket, dropping my phone while walking, or while standing—all things that have claimed the screens of too many phones in the past. The phone's screens came through with flying colors. On a few of the higher drops, the phone hit the floor with a convincing slap, leading me to believe that the screen would be a mess of shards. But it was fine. Even when I dropped the phone on its corners and it flipped and rattled around, the screen was Rocky Balboa-esque in its ability to absorb blows.
Apparently, it can even stand up pretty well to being trampled by a horse, if that's your preferred method of transport. However, that's probably not covered by the phone's four-year warranty.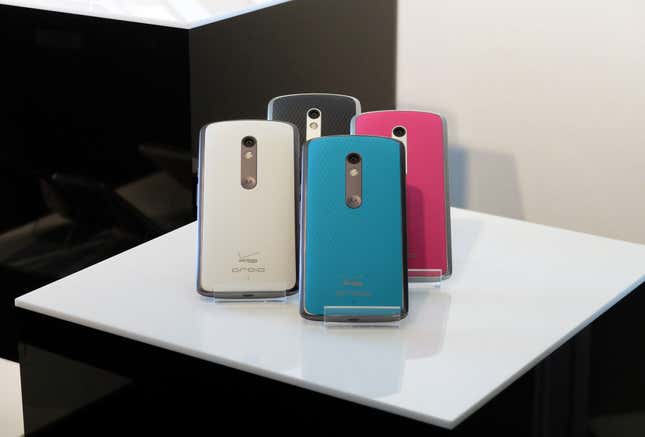 Motorola said the strength of the Turbo 2's screens lies in a new five-layer construction, succinctly named the Moto ShatterShield. It consists of two panes of tempered glass; a touch screen that has redundancies built in to ensure it keeps working after being dropped; a flexible display; and an aluminum chassis that "provides structural integrity and durability," helping to disperse the shocks of dropping the phone across the whole device.
Both phones had some other impressive features, including the ability to charge exceedingly fast. The Turbo 2's battery is said to last up to 48 hours, and can get up to 13 hours of power from just 15 minutes of charging—the Maxx 2 gets 8 hours in the same time. Both phones have 21-megapixel cameras, and expandable microSD card slots.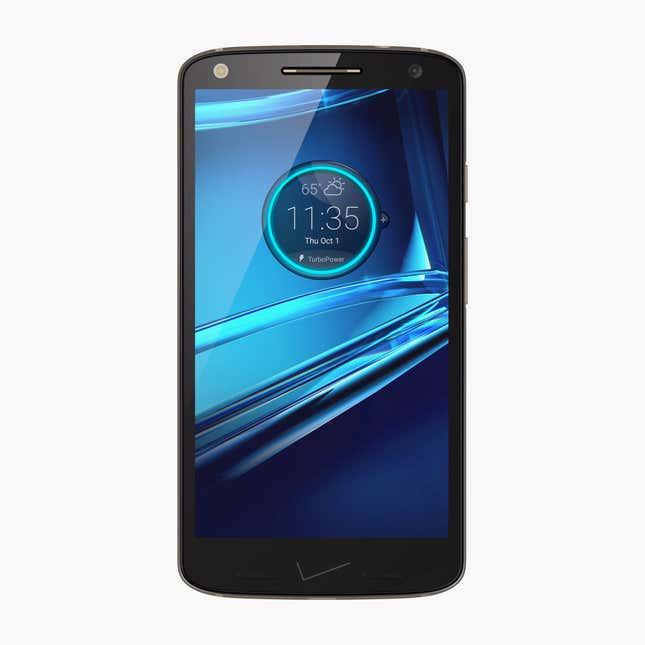 But the devices had some downsides. Both appear to have been modeled on the Moto X, and come with leatherette or plastic backs that give the phones a pretty cheap look—though that probably helps with their durability. Both phones will also be sold running Android 5.1.1, the previous version of Google's operating system, rather than Marshmallow, which was announced in May. Another anachronism: Motorola and Verizon bizarrely decided to stick the old Verizon logo on the Turbo 2  (the company rebranded in early September).
The phones go on sale at Verizon's stores and online Thursday. The Maxx 2 starts at $16 a month on a 24-month contact, and the Turbo 2 at $26. That works out to $364 and $624, respectively. If you're on Verizon and are a klutz, or always forget to bring a power cable, then these might be the phones for you. Otherwise, there's always the iPhone, the OnePlus 2, and, like, a phone case.
Update (Oct. 28, 10:55 am):  An earlier version of this post said both the Droid Turbo 2 and Maxx 2's screens were shatterproof. After publication, Motorola clarified that  only the Turbo 2 is. That being said, both phones held up pretty well when tested.