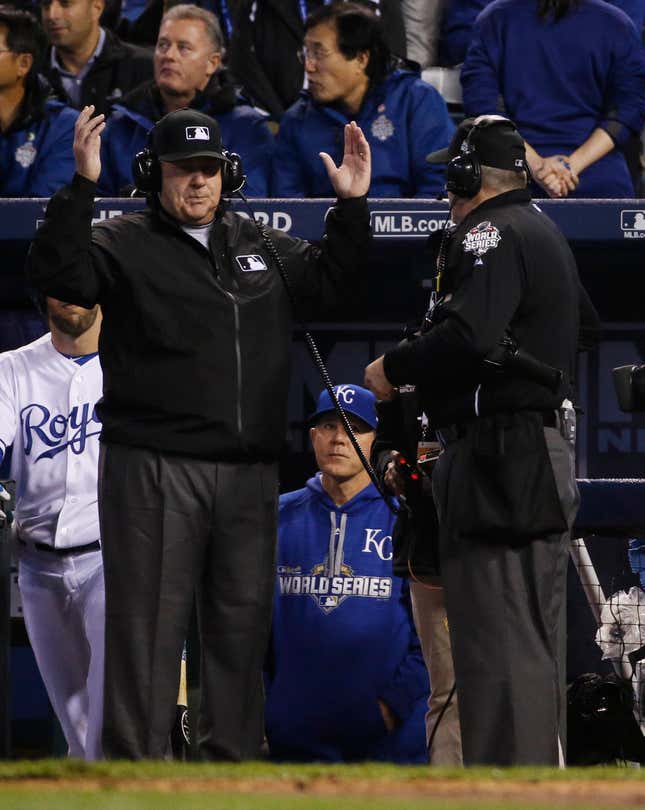 Fox's coverage of the World Series was disrupted by a power outage that delayed the game for several minutes and forced the network to provide viewers with an alternative broadcast.
It was an embarrassing snafu on Major League Baseball's biggest night of the year. More than 30 minutes after the problems began, Fox still hadn't fully resolved them.
At 7:19pm in Kansas City, where the Royals are hosting the New York Mets, the signal suddenly looked like this: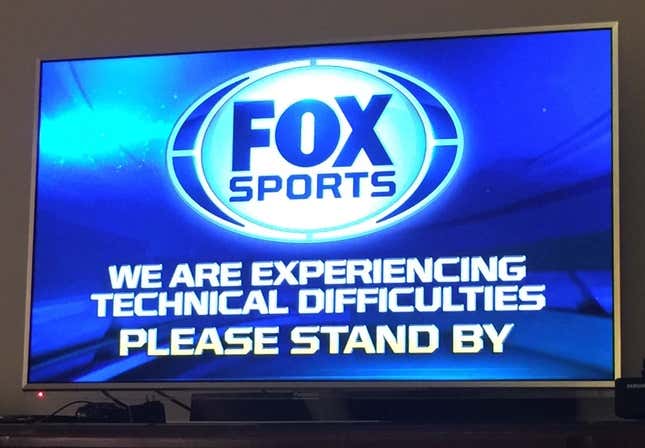 Meanwhile, customers of Google Fiber in Kansas City were unable to watch the game at all due to an apparently unrelated outage. (Google's experimental TV and internet service launched in Kansas City in 2012.)
After displaying the "technical difficulties" screen, Fox switched to hosts in its studio, who explained that Fox's broadcast truck had experienced a power outage. Play on the field was delayed for about seven minutes before Fox could start carrying an alternate feed from MLB International, which is covering the game in English for countries outside the United States. Ultimately, Fox's announcers took over MLB International's broadcast booth and continued announcing from there.
Joe Buck, the play-by-play announcer on Fox, later explained that the game was delayed in part because MLB's replay booth didn't have a feed of the game, either. "These managers evidently agreed to play the rest of the game without the use of replay," Buck said.
Fox has broadcast the World Series since 2000, and it has become a reliable money-maker for the network, which is owned by 21st Century Fox. This year's World Series is likely to attract higher-than-usual ratings because of attention on the New York Mets, who haven't won a championship since 1986.
Despite the switch over to MLB International's feed, it appeared that Fox was still able to air the advertising it had sold for the game.
Shortly after 9pm in Kansas City, Fox was finally able to switch back to its regular feed of the game. Buck said it had been an "unusual night."
"We apologize for the interruption in tonight's coverage," Fox later said in a statement explaining what happened, "and are working to ensure that the remainder of the World Series is broadcast without incident."